Auto Repair
Invoices
Generate professional invoices for your auto shop's clients. Send forms via email, sign online, get paid faster!
Go paperless by using ARI's invoicing features.
Custom Invoice Templates
choose from 7 professional-looking invoice templates
Send via Email or SMS
easily send your invoices using social channels
Get Paid Faster
offer your clients the possibility to pay their invoices online
Vehicle Repair Invoices on the Go
– never miss a payment or forget a due invoice –
Create an Invoice in Minutes
– add client, vehicle, parts, and labor –
Building a car repair invoice with ARI is a joy. All you need to do is choose a client, add their vehicle's details, insert the parts and services, and you're done. Here are some additional things you can di during the invoice creating process
Taxes
ARI (Auto repair software) supports multiple taxes for your invoices. So, depending on your location, you may need to add a federal tax, state tax, ECO tax, etc. If that's the case, then all you need to do is set up the tax name, value and activate it. ARI will automatically calculate the respective taxes and add them to your vehicle repair invoice.
Discounts
Do you want to attract more vehicle owners to your shop? Then provide some discounts to your services and they will line up at your bay door. Do you want to do that easily and effectively? Then create discount coupons and send them to your clients.
You can do all that with ARI. You can add discount coupons, send them to clients, and then when the client gives you the coupon code, you just enter it in the app and the discount will be applied automatically.
Other Expenses
Whether you need to add transportation costs or gas fees, or any other type of additional expense, you can do that with our auto repair software. You can even choose to add these after of before tax.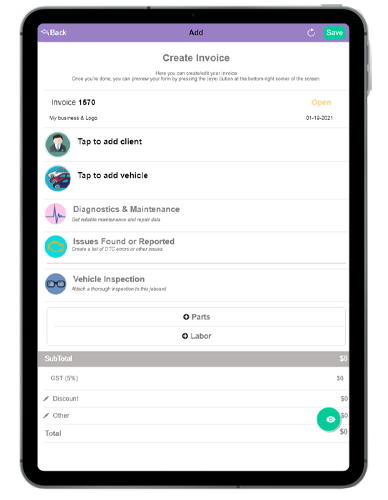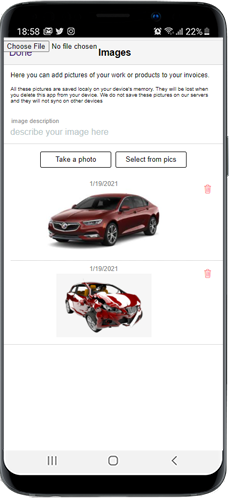 Add Custom Details
– edit and add additional info to your auto repair invoices –
There are some things that make digital invoices so much more appealing than the classical paper forms. With ARI you can take advantage of all these benefits in order to make sure you offer the best and most detailed invoice to your clients.
Attach Picture
Do you want to add before and after photos of the vehicle repair? No problem! With this car repair app, you can take photos of the vehicle using your phone or attach images from your PC. These images will be visible on the digital invoice so the client knows what he's paying for.
Sign Your Invoices
With ARI, you can sign your invoices right from your device. In addition, you can send a digital invoice to your client, and they can sign it from any device as well. This gives you peace of mind that your invoices are in accordance with the local laws.
Warranty & Notes
Would you like to add warranty info to your auto repair invoices? Maybe you need to make some notes and want those to be visible on the form? All that can be done easily with ARI. You can even save your notes and reuse them on other invoices. This way, you don't have to type every time you create a new invoice.
Preview Your Vehicle Repair Invoices
– make sure that everything is in order before you send to client –
When dealing with an auto repair business, there is little room for mistakes. Clients have high expectations and you need to make sure you meet them. That is why your invoices need to be professional, detailed, and accurate.
On-Device Preview
Check your invoice straight on your phone or tablet and make sure that it looks the way you want it to look. There are many auto repair programs out there that show you one thing on the screen, but the printed invoice is not the same. With ARI, your printer invoices will look the same as the preview on the phone.
Online Preview
Do you want to see how your invoice looks in a digital format? All you have to do is click the unique link ARI generates for each invoice. Your invoice will open in a new tab and you can see exactly how the client will see their car repair invoice.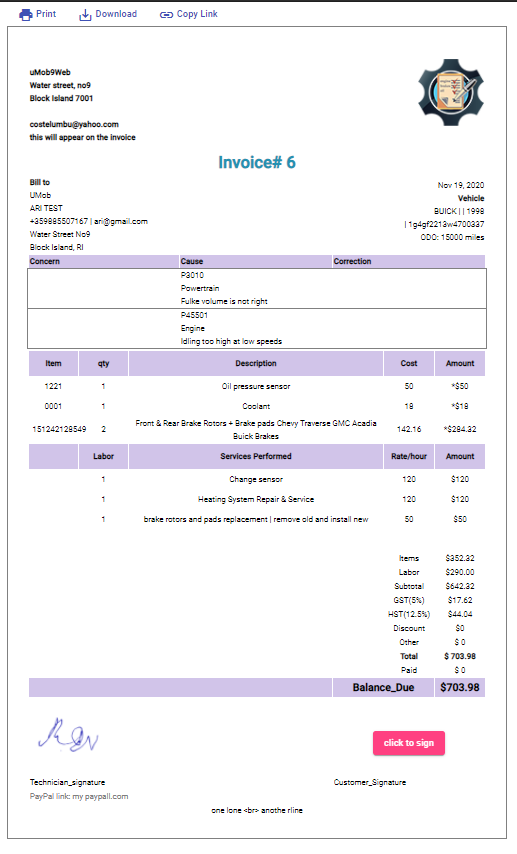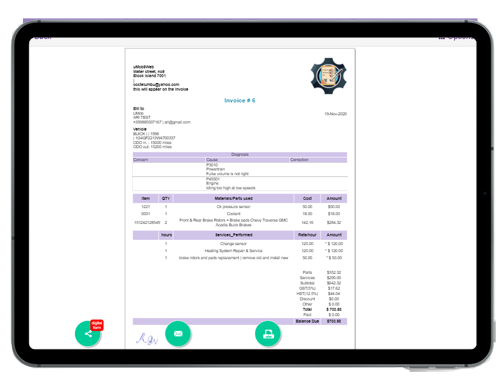 Send or Share Your Invoices
– make sure your invoice reaches your client –
Even the most professional-looking invoice is useless if it does not reach your client. ARI guarantees several ways to send your auto repair invoice so that you can rest assured your client gets them.
Share your Digital Invoice (Recommended)
After you preview and verify that all info is correct, hit the Share button and send your invoice link to your client. Your client can then preview the invoice, sign it, and then pay online.
Send via Email
Do you want to send your invoice in PDF format? No worries, you can easily do that using the email functionality. The system will generate a pdf of your invoice and attach it to the email you will send to your client.
Send via SMS
Some clients might prefer SMS instead of email. If that's the case, then you can send them a link to their digital invoice via SMS. They will be able to open it, review it, and even pay it.
Customize Your Invoice Template
– your auto repair invoice needs to be unique and custom –
Do you want your auto repair shop to stand out from the crowd? Would you like to make sure your clients remember your business? Then make sure you put a logo on everything your client sees.
Add a Logo
No business is complete without a logo on their invoices. ARI allows you to add color logos to all your printed or digital materials.
Change the Look
You can choose from 7 custom templates designed specifically for auto repair shops. In addition, you can change the color, header, and even the font size.
Hide Segments
You might want to hide the labor times from your invoice so clients don't see that info. Or maybe you want to hide the car part number so that your clients won't go to your competitor with that info and get a better deal without having to do their own research. All that can be done from ARI's invoice settings section.