Detailed
Vehicle Inspections
Customize your checklists, generate damage reports, and attach pictures to your auto inspections
Inspect vehicles with confidence using ARI's latest feature
Customizable Checklists
use the default checklist or create your own template
Damage Reports
mark damage on the vehicle schematic on the device
Attach Pictures
take photos of your client's vehicle during the inspection
Vehicle Inspections on the Go
– it is time to create inspections reports worthy of your reputation –
Inspection Checklists
– use default or customize your own checklist templates –
Every proper inspection starts with a comprehensive list of items that have to be thoroughly checked and assessed. At the end of the inspection, the client should receive a checklist with all the things your or your mechanic discovered about the vehicle in question. ARI comes with a default checklist but also allows you to customize and create your own template according to the services you offer.
Default Checklist
ARI (Auto repair software) comes with a default checklist of potential car issues. They are all separated into categories and the tech can choose between three status levels: Good, Fair, Poor. Each inspection will generate a pdf report that you can send to your client. You can also add pics and details to the default template!
Custom Templates
Do you want to create your own custom checklists for your vehicle inspections? No worries, ARI allows you to create, edit and save unlimited templates. You can basically create your own set of check items and save it as a new template.
Inspection Checklist Sample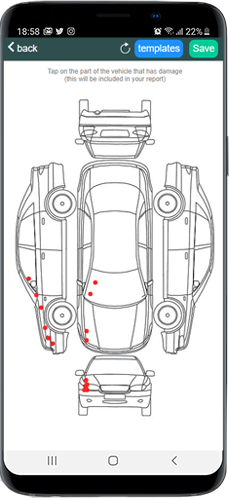 Damage Reports
– enhance your vehicle inspections with interactive damage forms –
Mark vehicle damage straight on the device by tapping on the section of the picture that has damage. You can choose from several different templates such as
Sedan
This one is a template of a typical sedan. You can mark the damage on the 5 sides of the vehicle.
SUV
This template is larger and represents an unfolded layout of a typical SUV
Pickup
A 5-fold schema of a pickup truck that allows you to mark damage not only on the body, but also on the truck's bed.
Motorcycle
Does your shop repair motorcycles? Then this layout will be perfect for you to mark any sort of damage the motorcycle might have
Trailer
If you're servicing trucks and trailers, then this layout will come in handy. Use it to mark damage on any sides of the trailer, including the roof.
Multiple Pictures
– attach photos of the damaged vehicle to your reports –
If you're inspecting body damage, then it's crucial you take photos of the vehicle in order to be able to attach them to your vehicle inspection form. Luckily, with ARI you can attach multiple photos to one inspection so that clients can have a good visual representation of the vehicle damage you're reported.
The saying that a picture is worth a thousand words does make a lot of sense when it comes to vehicle damage reports, so make sure you use your mobile device when performing inspections so you can add real live photos of the vehicle.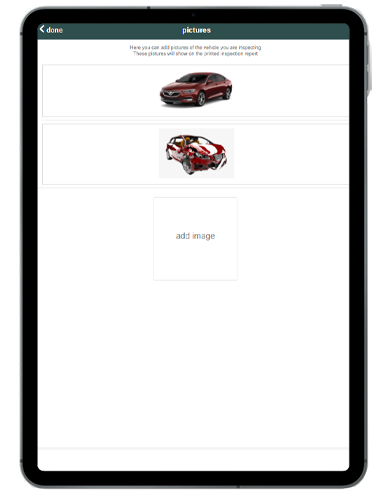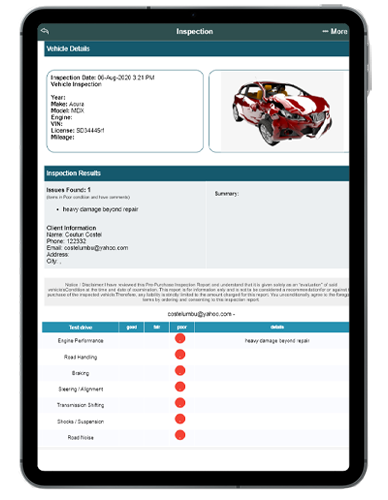 Preview and Send
– share your vehicle inspections over email or SMS –
Once you have saved and previewed your inspection report, it is time to send it to the client. This is done easily via email or SMS. The system will basically generate a PDF file that will be attached to your message. You can customize your message so that it contains your business name, address, and contact info.
You can also attach inspection reports to job cards. The logic is that when a client enters your shop for the first time, you would first perform a thorough inspection of their vehicle and create a vehicle report. After that, you can attach that report to a job card and generate an estimate for the parts and labor required to fix the vehicle damage. Once client approves the quote, move the job card status to Work In Progress, and once the work is done, send the invoice for payment.