Stripe
Integration
Let Your Clients Pay Their Invoices Online
Fast and Secure Payment Processing
– ideal for auto repair businesses –
Fast
Payment are usually transferred to your bank account within 2 business days
Secure
ARI & Stripe use the most secure payment processing solutions for your business
Easy
With a click of a button, your clients will be able to pay their invoices online
How to Use Stripe With ARI
– follow this guide to connect and get paid –
STEP 1 – Connect
– link your Stripe and ARI accounts –
The first thing you need to do in order to start having your auto repair invoices paid online is to connect your Stripe and ARI accounts. If you don't have a Stripe account yet, no worries – you will be prompted to create one during the connection process.
log in to ARI
go to ARI Settings
click on the Payment Selection Setup
read the info and then press the Connect with Stripe button
A new window will open up with instructions on how to connect or create a new account with Stripe in case you don't have one already. Follow the flow and you should end up on a Success page.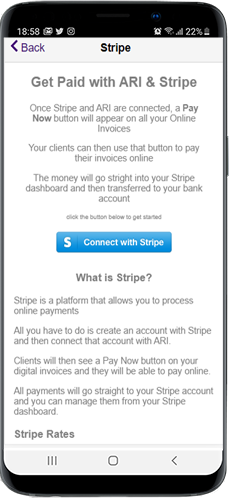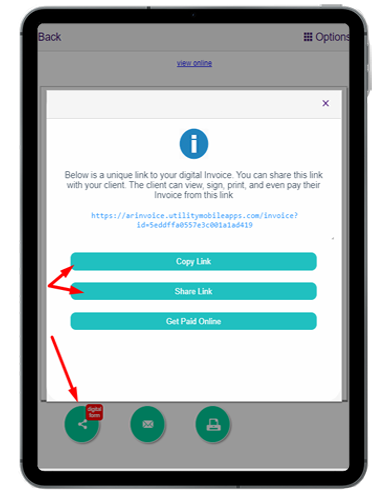 STEP 2 – Invoice
– create and send invoices to get paid –
Obviously, in order to get paid for your auto repair services, you first need to send an invoice to your client. ARI is the best auto repair invoicing app out there. As a matter of fact, the core function of this auto repair software is to create professional-looking invoices.
Create an Invoice
go to Invoices (or JobCards)
create a New Invoice (or JobCard)
fill up the necessary data and click Save
Preview and Send an Invoice
open the newly-created invoice
click on the Invoice icon to preview the final form
tap the Digital Form button
share the invoice's link to the client or open it yourself
STEP 3 – Payment
–  client pays the auto repair invoice online-
Once you have sent/shared the car repair invoice with your client, they can pay it online using the Pay Now button on the digital invoice form. Please note that the Pay Now button is displayed only if your Stripe account is set up and connected to ARI. Otherwise, the button will not be present.
open the digital invoice link
click the Pay Now button
follow the instructions to pay the invoice
If payment is successful, then you will receive a notification on your ARI app. The payment info will then be added to the Invoice record and the invoice will be marked as Paid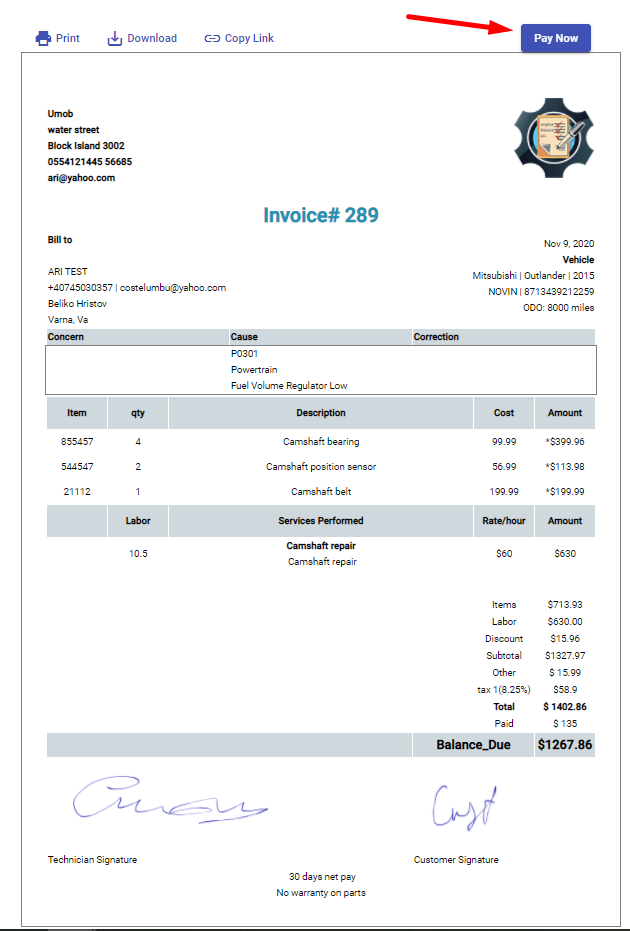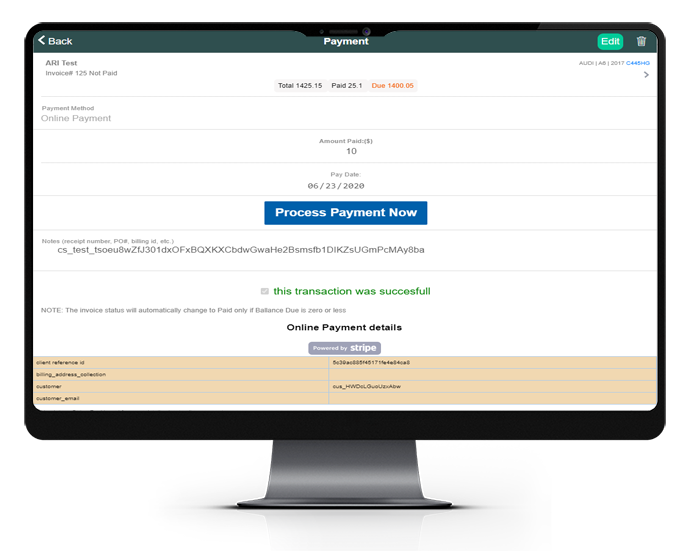 Verify
– check payment details in ARI –
Thanks to the Stripe integration, ARI can sync the payment details between the two accounts and offer you a clear understanding of the payment process. Here's how you can check the payment details of all your auto repair business transactions.
Option 1
open the Invoice/JobCard
go to More (upper right corner)
click on the Customer Payment button
select the payment record you want to view
Option 2
log in to ARI
go to Payments
select the invoice and payment record you want to view
You can also create new payment records straight from the Payments section. This will allow you to charge the client on the spot using the online payment option