Vehicle
Job Cards
Create detailed work orders for your mechanics. Track labor progress, start and stop work clocks, approve and deny services!
Get the best out of your auto repair shop using ARI's top featured job cards and work orders.
Assign Work
select the mechanics who work on each job
Track Labor Time
start timers for each of the job assigned
Approve / Decline Items
let your clients approve or decline a part or labor item
Powerful Job Cards in Minutes
– get the advantage of an auto repair software's top feature –
Statuses for Each Work Order
– keep track of the work in your garage –
Are you looking for an auto repair software that lets you create work orders in minutes? Maybe you want to send automatic notifications to your vehicle owners when their cars are ready? ARI comes with 3 different statuses for each job card that allows you to track the work in your auto repair service bay.
JobCard Created
Every new job card will start with this status Created. While in this stage, you have the possibility to add parts, labor, inspection reports, diagnostic, reported issues, and everything else related to the invoicing part of the card. That includes taxes, additional expenses, pictures of the vehicle, and even log in the millage when the vehicle first entered your shop.
Work In Progress (WIP)
This is where you can assign tasks to your mechanics. Each part and each labor items can be assigned individually. This way, you can have multiple mechanics work on the same car and still be able to track work independently.
At this stage, you can also mark labor items as recommended, approved, denied or completed. What's even more interesting is that you can actually have your clients allow or decline a recommended service. You can do that by sending them the digital form of the estimate and they can choose to approve or deny a particular labor task.
Job Completed
Once your technicians mark all items as completed and you verified the job, you can then change the status of the vehicle job card to Completed. This will lock in all your items and generate an invoice for you. You can then send the invoice to your client via email, SMS, or any social channel.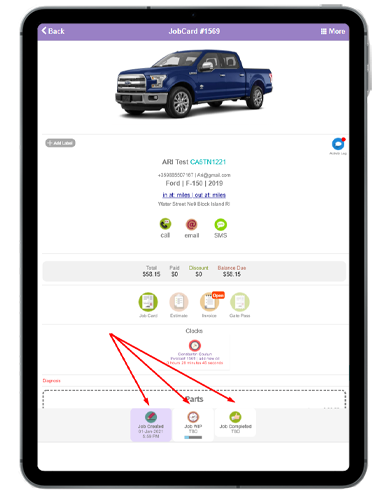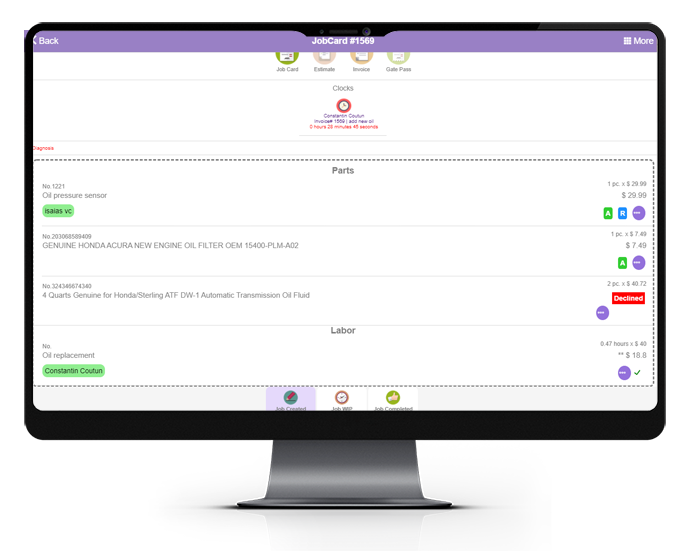 Item-Level Control
– change the status of any of your parts or labor items –
Whether you want to set an item as approved or denied, you can do that individually for each of the items in your vehicle work order.
Assign a Technician
This is the part where you assign a technician to work on the tasks included in your work order. You can assign a different mechanic for each of the parts or labor items. This gives you full control over who can work on what and also gives you the opportunity to have more than one mechanic work on a vehicle.
When you assign a technician, the system will ask you if you want to start a time clock for that particular auto repair. Clocks allow you to track labor times in real-time. The tech will clock out automatically when a job is marked as completed.
Show Service as Recommended
Use this option when you want to upsell a particular service to your client. For instance, your client could bring a car to your garage for an oil change however you notice that they also need a radiator flush. You can add the required parts and services for the radiator flush job and mark it as recommended. Then you can send a digital estimate to your client. They can approve or deny your recommended service and you will be notified automatically by the system.
Authorize Work
Mark an item as approved when you want your technicians to start work on it. If you have a garage bay manager, they will love this feature as it gives them an opportunity to control every aspect of a car repair process.
Decline Service
As a shop owner or garage bay manager, you can Decline services or parts inside a jobcard. Furthermore, you can give this posibility to your clients as well if you mark the item as Recommended.
Mark Job as Completed
When the job is done, your mechanic will mark the item as completed. At that point, the system will close any time clocks that have been running for that job and ask you if you want to update the labor time in the field value.
Client Notification
– let your clients know what happens to their vehicle –
This auto repair software allows you to send email or SMS to the client every time you change the status of their vehicle job cards.
Notify via SMS
You can send an SMS to your vehicle owner notifying them when their car is ready for pickup. You can also inform them when the status of the work order has been changed from Created to WIP (Work In Progress)
Notify via Email
You can also send your clients email notifications about the status of the repair. Whether you wanna let them know that the job is completed or that your technicians are starting work on it, you can do that seamlessly from the ARI app.
Real-Time Updates via Digital Estimates
ARI allows you to send a digital car repair estimate to your clients and they will be able to track changes to the estimate in realtime. They can approve or deny recommended services and they can see activity logs.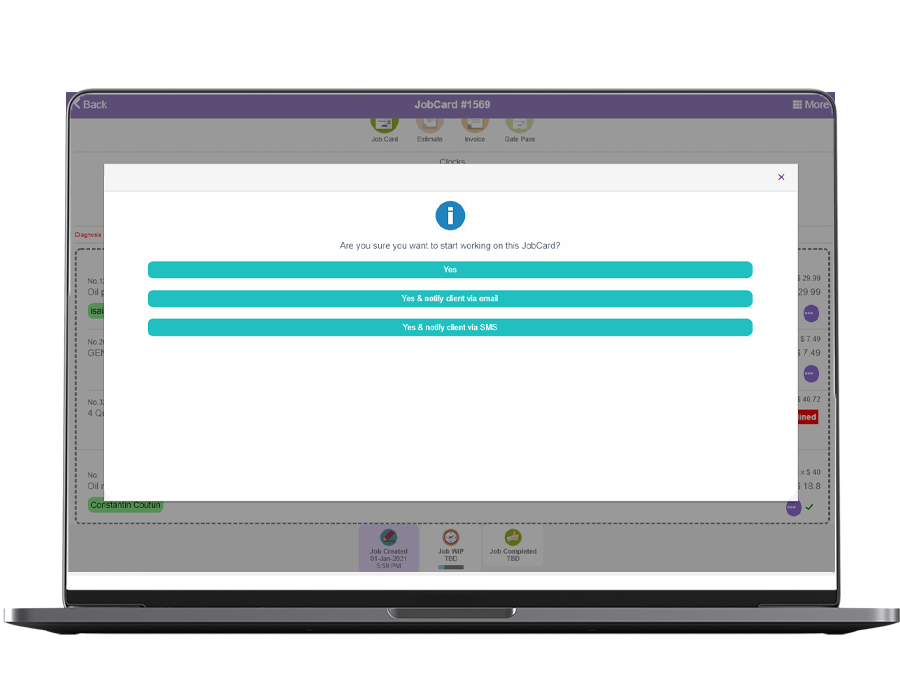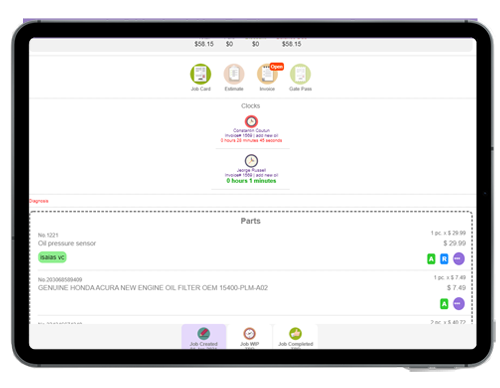 Realistic Labor Times
– update your auto repair labor times automatically –
Using time clocks, ARI allows you to track how much time a mechanic spends on fixing a car issue right inside your vehicle job cards. Once they are done, you can clock out and retrieve the time result. This auto repair system will also allow you to update the time of the repair based on the result of the clock. This guarantees accurate labor times that noone can contest.
Time Clocks can also be viewed and adjusted manually from their own dedicated section. You can add notes and associate time clocks to particular labor activities. Each time clock is associated to a user so this way you can also pull reports and see how many hours of work a mechanic has performed in a month!
Vehicle Job Cards Management
– search, filter, and sort your work orders –
Keep all your work orders nicely categorized so you can easily find out what's happening in your shop at any time of the day. Do you want to see how many vehicles are currently being repaired or how many new job cards have been generated this week? With ARI, you can easily see all that in your home view.
Search
Scan your job card list by client name, vehicle's VIN, make, model, and even car's registration number.
Filter
Whether you like to see your most recent orders first or the ones with the highest value last, you can do all that by setting a filter for your vehicle job cards.
Sort
ARI comes with a pretty decent range of sorting options for your work orders. You use dates, values, and names as sorting parameters.