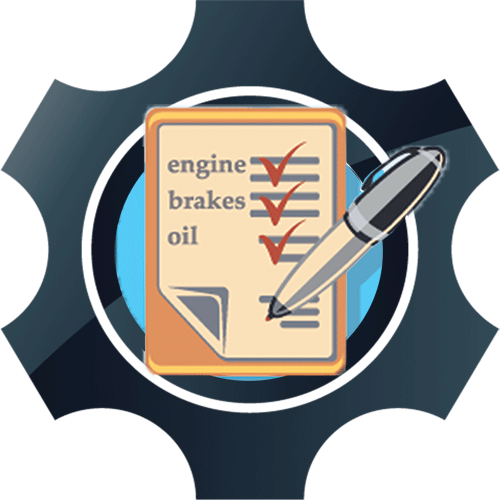 Get The Wheels Spinning With
ARI
A comprehensive guide to getting your auto repair business setup and running
ideal for first-time ARI users 
Fast & Easy
Getting your ARI profile setup and running should not take more than a few minutes. Our focus is to make this process smooth so you can go back to running your business
Intuitive
Most of ARI's features have been built based on mechanics and shop owners' feedback. You will find out that most settings are intuitive and creating your first invoice is a breeze.
Powerful
Our aim is to take the complexity out of your shop and automate it with this auto repair software. You will find powerful features that will have an immense impact on your shop's bottom line!
Welcome to ARI
– We're very excited to show you around –
ARI comes with a lot of features, all meant to help you run a successful auto repair business. Here we will show you how to set up your business profile, add your first client, enter your first vehicle and send your first invoice. You will also learn how to use other features of the app as well.

Profile Setup
– start with setting up your company details –
In this section, you will learn more about how to set up your auto repair company in the ARI profile. This is an important step of the process as many of the settings here will actually affect the way your invoices look.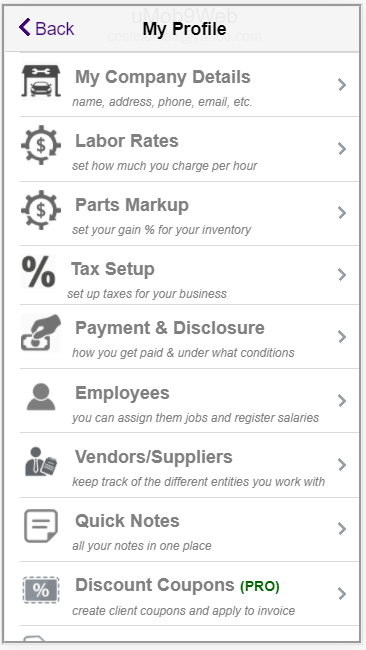 Log in to ARI and navigate to the Profile page.
Company Details: Here you can upload your company's logo, your signature, as well as your contact details and address. These will all show up on your invoices
Labor Rates: You can pre-define 4 types of labor rates which you'll be able to select when building your invoices
Parts Markup: This is useful when you keep your own stock inventory and want to calculate the sale price automatically based on the part's cost and markup
Tax Setup: You can edit the names, values, and availability of 3 different types of taxes. You can also choose to make your Parts and/or Labor taxable by default or not.
Payment and Disclosure: Here you can add your bank account info and other notes and disclosures. They will be visible at the bottom of your invoices
Employees: If you're working with a team, then add them to this section. You can then later on log in Salary expenses for each of your team members
Vendors: Add the suppliers and vendors you work with. You can then select them when creating Purchases or Expenses in your Accounting section of ARI
Quick Notes: Useful when you need to take a note for yourself without having to leave the app. These notes are visible only for you.
Discount Coupons: Supercharge your sales with a discount campaign. Offer your clients coupons which they can use with your services. ARI handles all the work for you, including sending the coupons to your client!
Labels: Here you can manage your labels. They can be attached to any vehicle, client or Invoice for easy tracking.
User Roles: Do you want to allow access to other members of your team? You can set up specific access rules for each role and then attach that role to a user.
Users: Users will get their own passcode and will be able to access only the parts of the app you allow them to via their Roles.

First Client
– enter your first customer in ARI –
Here we'll show you how to create a new client entry in your auto repair software database. Once added and saved, clients can then be easily used to create invoices.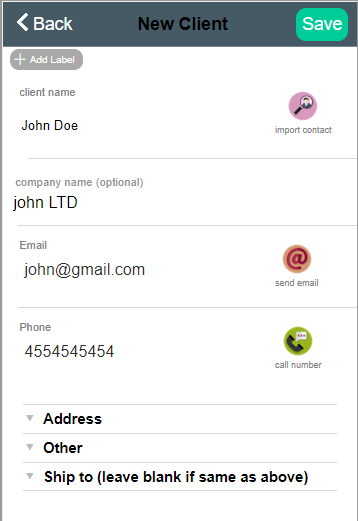 Go to Clients page and then click the + button to add a new client
input client's full name (you can also import from your contacts by clicking the Import button)
add client's address
input notes
record client's GPS location (useful when you provide take-off and drop-off services)
After Save, click on the new client to open the client's page. In here you can
add a vehicle
create a new invoice or estimate
generate billing statements for that client

First Vehicle
– add your first car in ARI –
It's very important that you keeping track of all the vehicles that pass through your auto repair shop. This way, you can offer a much more complete service and experience to your returning customers.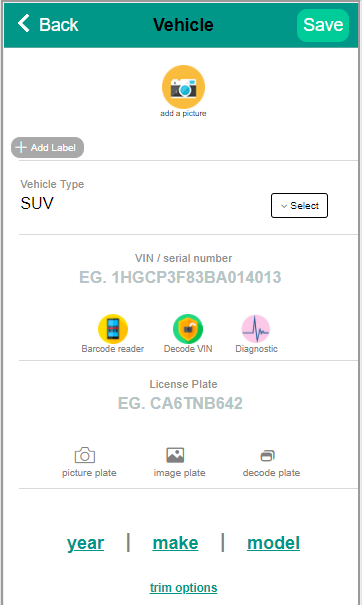 Vehicles are the backbone of any auto repair business and so we've put a lot of effort into offering you the best features on the market. Here's what you can do with ARI
scan VIN barcodes with your phone's camera
decode any VIN
scan and decode license plates
get service history reports (powered by CarFax)
extract detailed vehicle info from NHTSA database
check upcoming maintenance and potential costs
attach pictures
bind to client owners
record service reminders

First Invoice
– create your first work order, invoice or estimate –
A JobCard is like a work order. It allows you to add a client, vehicle, and then generate invoices and estimates for them. Although you can create an Estimate or Invoice separately from the Inv/Est page, we strongly recommend you build JobCards instead as they offer much more options. Every JobCard will contain the respective Estimate and Invoice so you get the best of both worlds.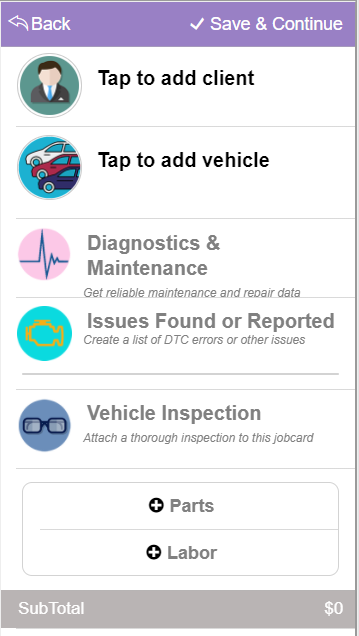 Log in and go to JobCards. Click the + button to start a new jobcard
Before Save
select the client and vehicle you've created in the previous sections
add parts and labor from your inventory, our list of pre-defined items, or import form PartsTech directly
insert diagnose items to your jobcard
log client's reported issues
generate vehicle inspections
setup discounts
check profit
After Save
authorize labor items
mark services as recommended (upsell)
log customer payment
take customer signature
sync to QuickBooks
customize your invoice template
send invoice via email, SMS or Print
add QR code to your invoices so clients can pay them online (Stripe integration)