PartsTech
Integration
Order parts easily with PartsTech and ARI!
Smooth and reliable parts procurement process.
– US and Canada only –
Local Suppliers
Order parts from your favorite local suppliers
Price Comparison
Choose the right part at the right price all the time
Smooth Integration
Parts from your PartsTech Cart will automatically import in ARI
How to procure parts using PartsTech?
– follow this guide to integrate your PartsTech account with ARI and order parts from your local suppliers –
What is PartsTech?
– The Right Parts, at a Fair Price, Day in and Day Out –
PartsTech helps repair shops find the right parts fast. One search shows you live inventory and wholesale pricing from all of your parts suppliers in one look-up. Sign up for free and cut the hassle out of parts ordering.
Once setup, you will be able to access your PartsTech account inside ARI and so order parts easily right from the comfort of your favorite auto repair software.
Please note that PartsTech currently works in US and Canada only. Users outside these countries will not be able to access the PartTech integration!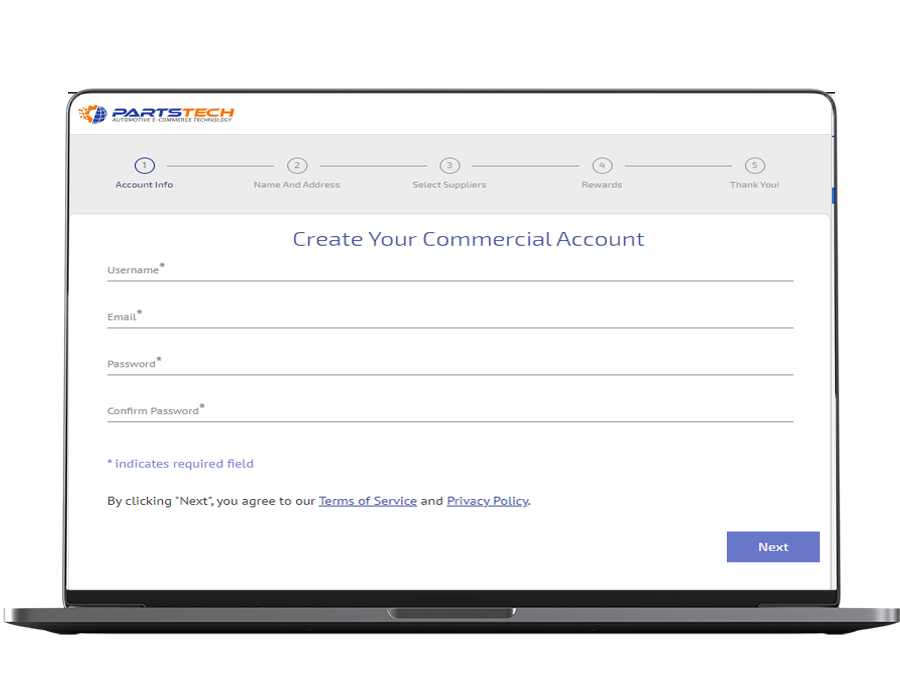 Create a PartsTech Account
– free of charge –
Sign Up
If you don't have an account with PartsTech already, then you can easily sign up here to create one for free. It takes only a few minutes.
Choose your Parts Suppliers
Select your preferred parts suppliers that are closest to your location. This will ensure fast delivery and reliable services.
Confirm your account
You will be prompted to enter your supplier's account info. Follow the guides in order to have a successful connection so you can place orders
Connect ARI with PartsTech
–  takes only a minute  –
Before you can use the PartTech integration, you need to make sure your accounts are connected. This will allow you to open your PartTech account inside ARI without having to leave the app.
login to ARI
got to ARI Settings/Parts Ordering Setup
click on the "click here to get your credentials"
copy-paste your PartsTech username and API Key into ARI
click the "Connect to PartsTech" button
If all good, you should see a Connection Successfull message
Add Parts to JobCards
– create Estimates & Invoices –
One of the biggest advantages of using PartsTech is the ability to add search easily for parts within your network of suppliers. Once you found the right part for your vehicle, add it to your cart. Close the PartsTech session and ARI will prompt you to import those parts right into your current JobCard
Add Parts to PartsTech Cart
Create a new JobCard inside ARI
Add a Client and a Vehicle (preferably with a valid VIN)
go to (+)Parts
click the "Order from PartsTech" button
– a new window will open inside ARI with a new PartsTech session.
– if your vehicle has a valid VIN, then PartsTech will load the vehicle in the session
choose the parts you want and "Add to Cart"
CLOSE the PartsTech Window
– do NOT click Buy Now yet. You will do that at a later stage.
You will be prompted to import your parts into your current JobCard
finalize your jobcard and SAVE
Order the Parts
Open the previously created JobCard
go to More (upper right corner)
– click on the PartsTech Order
– the previous session will load up in a new window
click on the PartsTech Cart and then hit the Buy Now button
Close the window and return to ARI
That's it. Your order will be processed by the supplier you've selected and your parts will be delivered to your address.
Add Parts to Inventory
– Using Accounting / Purchases –
Another way to add PartsTech items to ARI is via the Purchases feature in Accounting. This will allow you to import items straight into your Inventory. Follow the steps below to create a purchase and update your inventory items automatically.
Add Parts to Purchase
create a new Purchase from the Accounting page
click the PartsTech button
– a new window will open with a new PartsTech session
select the parts you need and Add to Cart
– DO NOT buy them yet., just leave them in the Cart for now
Close the PartsTech window
Import the parts into your Purchase.
Save the Purchase
mark as Received to update the Inventory
Order your Cart
Open the Purchase
click the PartsTech button
– a new window will open with the associated PartsTech session
click the Cart
Buy Now to order the parts
close the PartsTech window
That's it. Your order should be processed by the supplier.