Online Payments Integration with
360 Payments
Give Your Clients the Option to Pay Their Repair Invoices Online
– great convenience for auto repair businesses –
We are glad to introduce a new online payment option you can use for your invoices.
We've integrated 360 Payments to provide you and your clients with an optimal way to make payments on the Internet. 
Lower Fees
Most businesses prefer lower transaction fees when they choose an online payments solution. And our partners are ahead of the competition when it comes to that.
Simple Setup
To complete your account and start making online payments – you don't need to do much. Our partners will do most of the setup for you.
Rapid Transactions
360 Payments online network sustains faster transaction times. Which is a great benefit for businesses that make multiple daily transactions. 
Connecting Your Online Payments Account
– setup guide –
STEP 1 – Create An Account In 360 Payments
– seamless process –
If you want to use the service – you need to go to our partners' webpage and fill out a form with some business details. Once you do that, they will contact you and help you set up an account.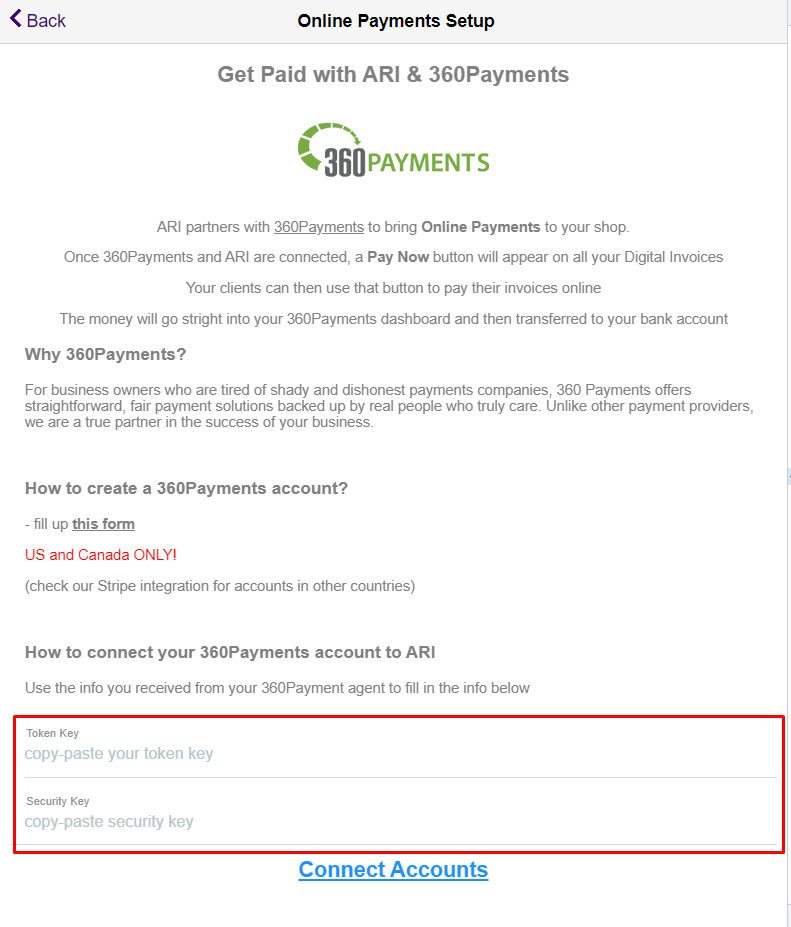 STEP 2 – Finish The Setup In ARI
– fast and simple setup –
After your 360 Payments account is ready – you will receive 2 verification codes you need to enter into our system. Those are a token key and a security key.
Follow those steps to add them in ARI:
open our main Settings view
select "Online Payment Setup"
choose the 360 Payments section
enter the keys in the corresponding fields
Click on the "Connect Accounts" button
If all is well, you should see a page that says your account has been connected successfully. And you can go ahead and try your first online payment.
STEP 3 – Make Online Payments
–  here's how it happens –
Once your setup is ready, you can start processing payments online.
Follow those steps to try your first 360 Payments online transaction:
open an invoice from the Invoice menu
translate the invoice into a web invoice format
Click on the "Pay Now" button
add your card details
proceed with a payment completion
You can also check your transactions in your 360Payments dashboard.
We suggest you generate a test invoice and a test payment before making any actual payments.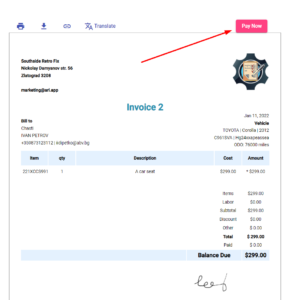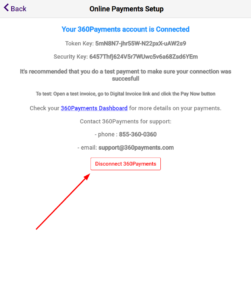 Removing Online Payment Options
– how to change online payment integrations  –
Once your 360 Payments account is set up, there is an option to remove the integration from our app.
Doing that will eliminate the possibility for you to make new online payments in ARI. Also, you won't see the pink "Pay Now" button on your web invoices.
You can disconnect by opening the Settings view and going to the Online Payment Setup page. After that, you should choose 360 Payments and click on the "Disconnect 360Payments" button.
If you change your mind around – you will have to go through the setup process once more.
It's also important to know that ARI supports only one online payments connection at a time. And if you have both Stripe and 360 Payments connected to your account – the 360 Payments integration will take priority.