Auto Shop Accounting
Features
Create purchase orders, track your expenses, and monitor your profits!
Keep your shop's finances in check with ARI.
Expense Tracking
log your expenses and monitor your spendings
Purchase Orders
create car parts purchase orders and email to your suppliers
Income Monitoring
check your income and be notified when invoices are due
Expert Accounting Options with ARI
– make your auto repair shop more profitable than ever –
Expense Management
– create detailed expense reports –
ARI comes with a powerful expense tracking feature that allows you to log any type of expense your business incurs.
Expense Types
Does your auto repair business incur expenses such as employee salaries, parts, rent, electricity, transportation, maintenance, tools, supplies, or any other general expenses? Then rest assured you can log them with ARI.
Vendors and Employees
With this auto repair software, you can create expenses for both vendors and employees. Say you have to pay salaries, then you can log that expense in your ARI accounting. If you have to pay your electric bills or Internet, then you can enter your vendor's data so you can create recurring expense reports!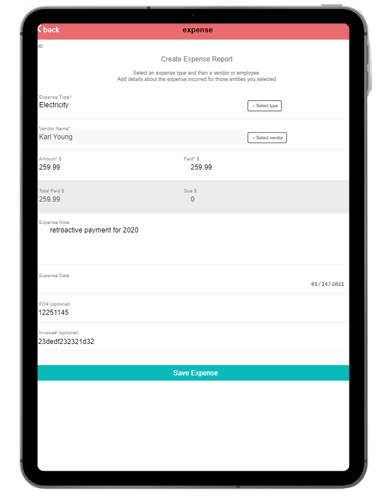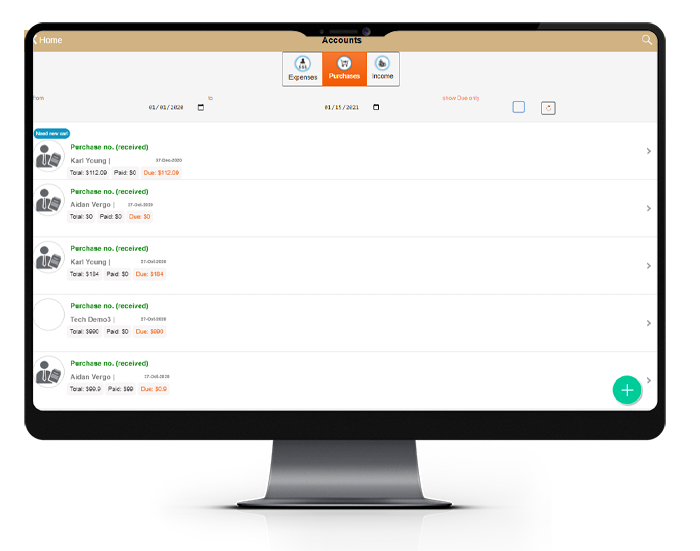 Purchase Management
– create, manage, and send purchase orders to your car parts suppliers –
Purchasing parts is a crucial task for any auto shop accounting software. That is why we made sure you have all the tools necessary to keep a close eye on your business purchases.
Create Purchase Orders
Add parts to your purchase order, set a date, price, and quantity, and then send that purchase order to your supplier via email! At that point, the status of the order will move from Created to Receiving and the system will allow you to verify your purchase before confirming.
Automatic Inventory Update
After you verified that all your ordered parts have arrived, you can confirm the order. This will change the status to Completed and also automatically update the price and quantities in your parts inventory.
Income Tracking
– keep a close eye on your shop's income –
Worried about missing due invoices? Are you always using your calculator to figure out how much money your auto repair business has made last month? Forget about all that. With ARI, you can easily monitor your income and make sure your auto repair business stays profitable!
Due Invoices
As with any respectable auto repair software, ARI offers a clear way to track your client's due invoices. This way, you can easily notify your customers when their car repair payment is due.
 Reporting
Tracking your shop's income and profit is essential for any auto repair business. With ARI you can check your individual income per invoice and even view profit generated from parts sale or labor costs!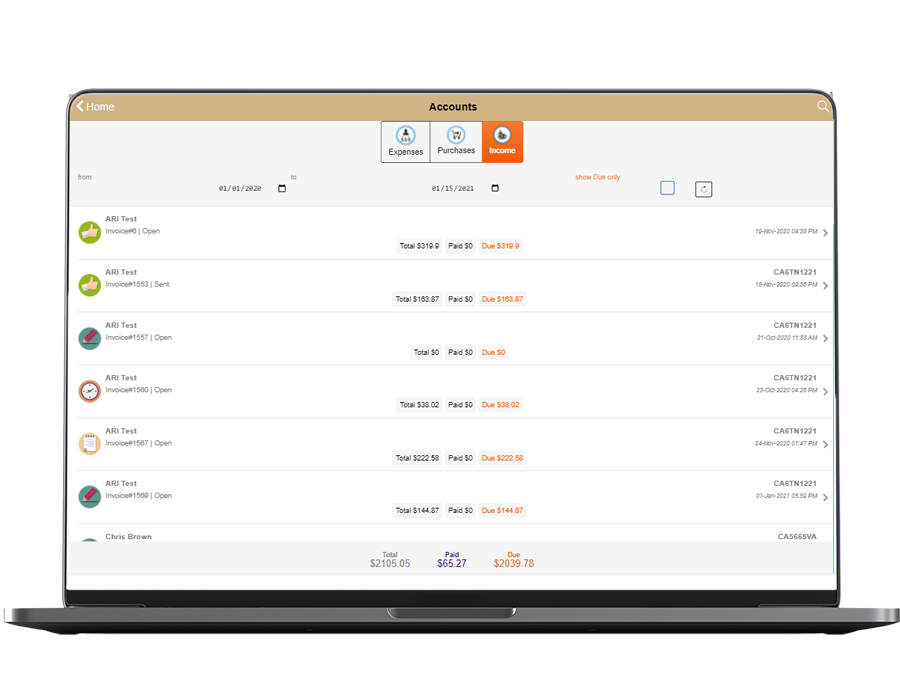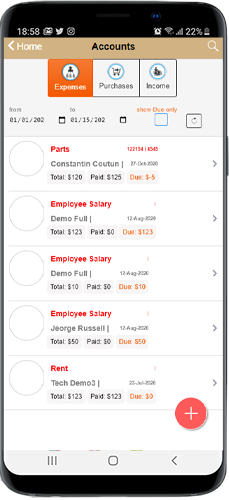 Secure Accounting for your Auto Shop
– all data is kept reliably on Progress servers –
When it comes to accounting software, you need to make sure that your data is safe and your client's privacy is respected. ARI offers state of the art cloud services from Progress and Amazon Services
Safe
It's important to know that you will never lose data if your device gets broken or lost! All ARI data is securely kept in the cloud so you can rest assured that your invoices will persist to exist even if you lose your devices.
Secure
Data security and privacy is another crucial element for any auto repair software. ARI uses encryption so that you can rest assured your data will stay hidden even for the most praying eyes.
Start your Inventory Management today
– unlimited parts and services entries –