Auto Repair
Service Reminders
Earn return customers by reminding them when service is due.
The system sends automatic reminders via email!
Stickers
print service reminder stickers that you can stick to client's car
Automatic Reminders
let ARI send automatic email reminders to your clients
Unlimited
there is no limit on how many service reminders you can add
Vehicle Service Reminders For the Win
– surprise your clients with a professional email reminder before service is due –
Tracking
–  see in one view what services are due next –
ARI comes with a very intuitive way to track all your client's service due times. All you have to do is click on the Service Reminders button and you will see service details as well as a graphical representation of how much time is left until the vehicle should be services.
Service Type Details
With one glimpse, you can easily see the type of services you're tracking. This is very useful as it can give you a good idea of what kind of workload you could expect for that day. This way, you can prepare your garage and personnel beforehand for those particular services.
Vehicle and Client Info
Obviously, it's crucial that you have easy access to the client and vehicle info so you can prepare beforehand for the respective service that is due, should the client make an appointment
Time Left before Due
Check the screenshot to see how the service reminders are represented in ARI. The blue line indicates how many months are left until the client needs to come back for a recurring service.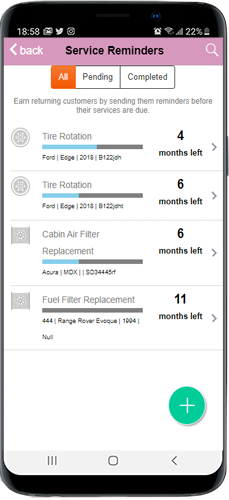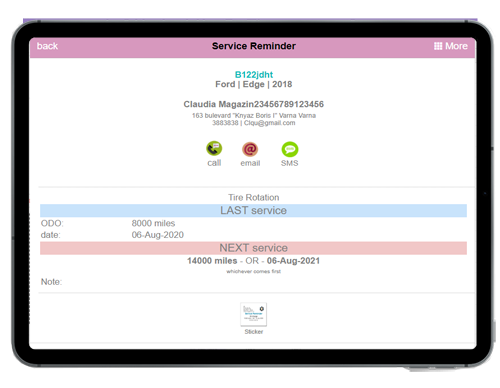 Presentation
– auto repair service reminder view –
Whether you need to call the client or send him an email or SMS, you can easily do that from the vehicle service reminder page. In addition, you can also see details about the service type, last service date, and mileage, as well as the next service date and recommended milage.
Contact Details
With a single push of a button, you can call the client without leaving the ARI app. Maybe you'd like to send a custom reminder about their due service? No problems, you can do that too by using the email or SMS functionality that ARI provides.
Service Details
Here you can get more info about the service type as well as data about the last ODO record together with the time when the last service was performed.
Sticker
With this auto repair software, you can print a service reminder sticker. As any reputable mechanic,m you should always leave a sticker on the vehicle for services such as oil changes, filer replacements, etc.!
Details
– create detailed auto repair service reminders –
It's important to get as much info as possible when creating a service reminder, but you also want to do it fast so that you don't keep your client waiting for too long. ARI tackles these 2 points by automatically connecting vehicles and owners to the service reminders.
Service Types
From oil change and tire rotation to insurance and registration reminders, you can choose them all from ARI's predefined list of services.
Next Service
You can choose between milage and time when it comes to setting up the next service reminder. For example, for an oil change, you can set up the reminder to go off 12 months from now. That means that 3 days before 12 months pass, the system will send an email to the client reminding them that the oil change is due on their vehicle.,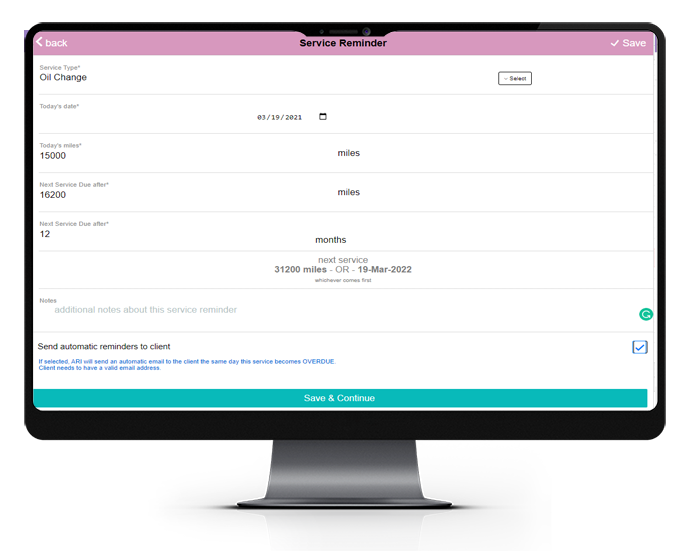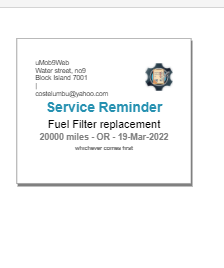 Stickers
– print auto repair service reminder stickers –
Every time you create a service reminder with ARI, a service sticker will be generated automatically. You can then print that sticker and glue it on the client's car (normally on the door inner side lock or engine bay) The sticker contains the date and mileage the service was performed and also the next recommended date for renewal.
It is crucial that you use service reminder stickers for all the auto repair jobs you perform. This will give your clients a reminder and a way to get back to your shop for their recurring services.