Auto Repair
Estimates
Create professional quotes for your auto repair clients
Recommend, Approve, Decline, and Upsell your Services with ARI Estimates
Unlimited Quotes
we don't put any limits on how many quotes you want to sent
Upsell Services
recommend items so clients can approve or decline in real time
Share in Seconds
share your digital estimates on the go from your device
Vehicle Repair Quotes on the Go
– sell more and faster –
Create Unlimited Estimates
– add clients, vehicles, parts, and labor items-
Auto repair estimates are the building block of any reputable business. In this day and age, it's normal for clients to want to get an estimate before they commit to the repair. That is why many auto repair service providers offer free estimates to their clients. With ARI you can create unlimited estimates.
Add Client Info
Start by choosing a client from your database or adding a new one altogether. Take your time to input as much data s possible such as client name, email, phone, and even address. It will make it easier later on when you have to send them the estimate.
Add Vehicle Info
It is time to add a vehicle to the quote you're building. Vehicle info is important as it will help you choose the right parts later on. Make sure you input the license plate, VIN number, make, model, and year of the vehicle.
Vehicle Inspection & Diagnosis
With ARI, you can easily create car inspections and add them to your estimate. This will give your clients a good view of what exactly is wrong with their vehicle and what are your professional recommendations.
Add Parts
ARI comes with a built-in database of car parts. They are the most common ones and are separated in categories so you can easily find them. In addition, you can also create your own car parts inventory and even import part from eBay.
Add Labor
Select from a predefined list of services or input your own labor details. Make sure you input the estimated labor time and price per hour. Set up the tax checkbox if applicable and save the labor item.
Verify & Save
Check that your taxes are set up right and that there are no additional expenses you may have missed. Do not worry tho', you can always come back and edit your estimates!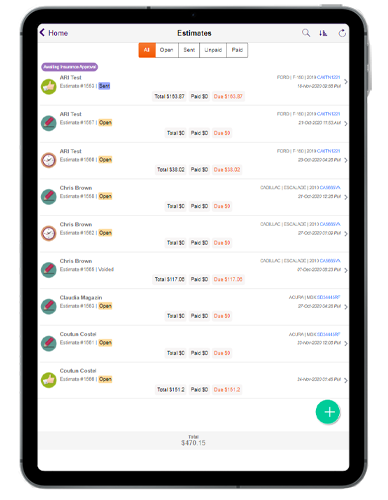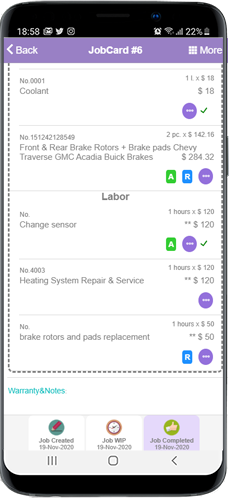 Upsell Your Services
– use the Recommended function to sell more services –
Sometimes clients come to you for a trivial job such as a brake replacement but you, as a respected mechanic, do a proper inspection of the vehicle and spot some other issues as well. For example, maybe their brake rotors are damaged and it won't make much sense to replace the brake pads without changing the rotors too. This is just one example of how you can recommend an additional service to your client and add it to their Estimate.
Show Services as Recommended
Open your estimate and click on any item. A menu will appear where one of the options is "Show as Recommended". When you mark an item as Recommended, the following will happen
a letter R will be added to the item description so it's easier to spot that this is a recommended service or part.
the item value will be subtracted from the total.
your clients will have the option to Approve or Decline any item that is marked as recommended.
Authorize Job
If you have the right role, eg. Owner, Admin, or Manager of the company, you also have full control over the items in your auto repair vehicles. ARI allows you to mark an item as Authorized so this way your mechanic has the green light to start the actual work
Decline Job
Sometimes it happens that your mechanic has diagnosed the wrong issue or that a certain part is not needed anymore or that the client does not want a particular service. If that's the case, then mark that item as Declined. It will be removed from the total.
Preview & Send Your Quotes to Your Clients
– once you're ready with your auto repair estimate, share it with your client –
ARI offers several ways to send estimates to vehicle owners. We recommend sharing the digital estimate as opposed to the PDF option as that gives your clients the opportunity to track the progress of the work and even sign the estimate digitally
Digital Estimates
This auto repair software will create a unique link for every estimate you generate. You can then send that link straight to your client. They will have control over the Recommended services and can even track the activity log of their changes.
PDF Estimates
You can also generate PDF estimates and send them to the vehicle owners via email or SMS. ALthough this is a common practice, it does not allow clients to sign the invoice online or track the progress of the vehicle repair in real time!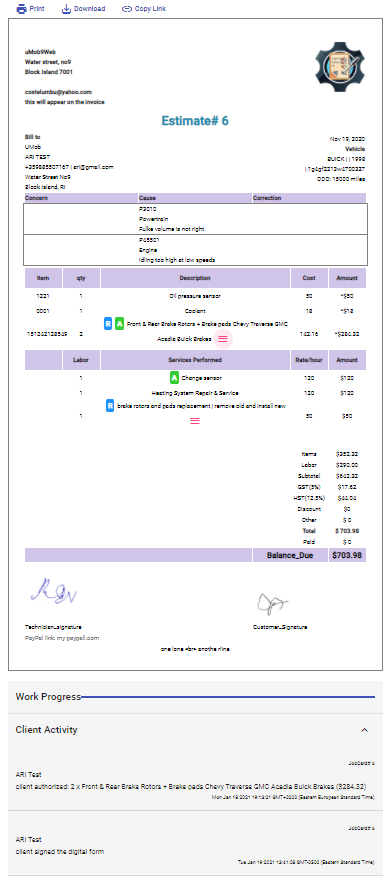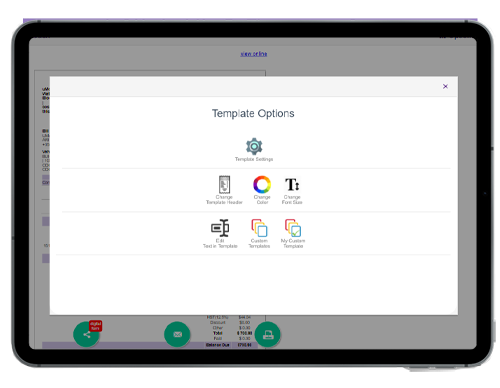 Customize Your Auto Repair Estimate Forms
– add your logo and make changes so your estimate reflects your business –
No better way to make a good first impression on your clients than sending them professional-looking and highly customized repair quotes. Think about it, some clients don't even step inside your shop unless they get an estimate first. So, make sure you leave a great impression by offering a proper estimate or else you may lose that client.
Add Your Shop's Logo
Every single material you send out from your auto repair service needs to have your logo on it, period. Auto repair estimates are the first thing a client sees, so make sure you solidify your brand with a clear and crisp logo on your forms!
Change Colors
Does your business uses a particular color scheme? Maybe you want your estimates to have the same color as your auto repair website. ARI let's you change the colors of your estimate forms so they match your business look and feel.
Choose a Custom Template
If you don't know how you want your estimates to look like, then no worries. We have prepared 7 of the best auto repair estimate forms in the industry. You can select any of them with a simple click of a button.