QuickBooks
Integration
Sync ARI invoices to QuickBooks Online!
Manage customers and inventory.
– keep your auto repair shop's data connected –
Smart
One of the most intuitive accounting softwares
Simple
Built to take the complexity out of the accounting task
Fast
ARI seamlessly integrates with QuickBooks
How to Sync ARI with QuickBooks?
– follow this guide to integrate your QuickBooks Online account with ARI –
STEP 1 – Connect
– your QuickBooks and ARI accounts –
The first thing you need to do is connect your ARI and QuickBooks accounts. Luckily, we have made this process quite simple and intuitive.
Log in to ARI and then go to Settings. After that, scroll down to QuickBooks integration. Click the button and follow the instructions on the page in order to connect your accounts. If all good, you should end up on this page at the end of the workflow!
NOTE: If you don't have a QuickBooks account already, then make sure you create one here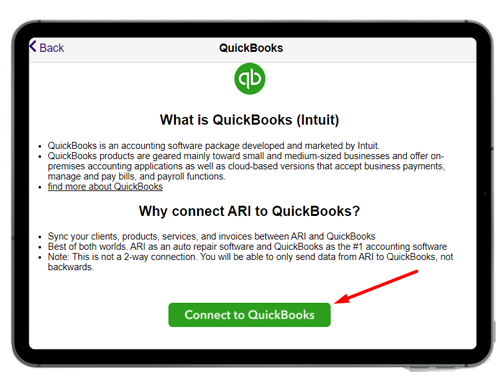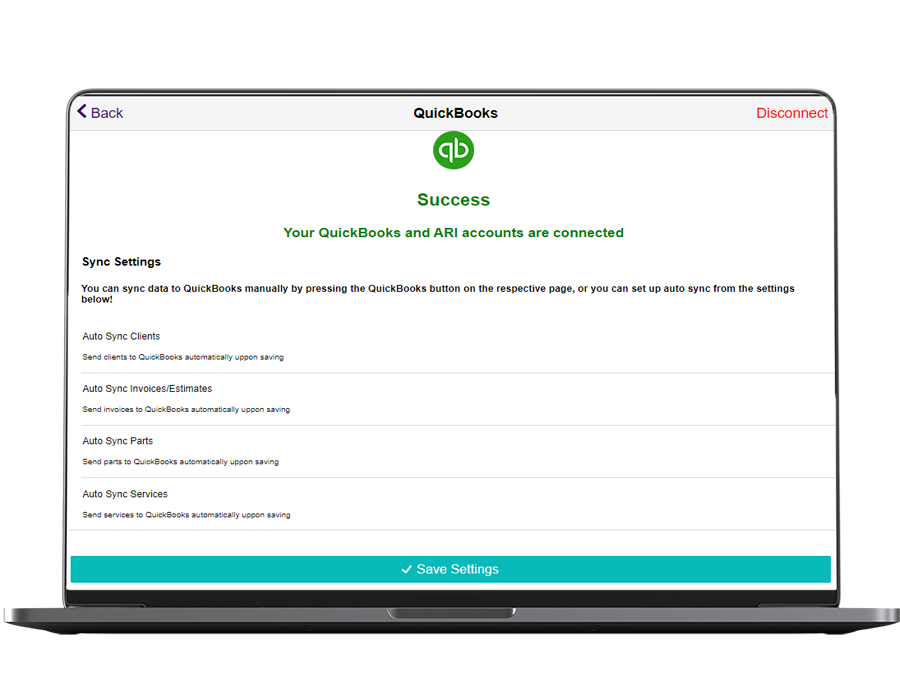 STEP 2 – Setup
– sync options –
ARI offers you the possibility to set up how your data is synced with your QuickBooks account. You can choose to sync your data manually or use ARI's smart functions to sync your invoices, clients, and items automatically.
We recommend syncing your data manually at the beginning until you get used to both systems and get enough confidence in their workflow. After that, you can go back to ARI Settings and setup automatic sync with QuickBooks
STEP 3 – Sync
–  invoices, clients, inventory  –
Now that your ARI and QuickBooks accounts are connected and set up properly, it is time to sync your data. ARI can sync the following data to your QuickBooks account
Invoices: You can easily send your ARI invoice to your QuickBooks account with a simple click of a button. Just press the QuickBooks icon while on the invoice Menu
Clients: Similar to invoices, the QuickBooks button will be visible on the client edit page. Click on it if you like to send your client info to your QuickBooks account
Inventory: You can send parts and service items from ARI to QuickBooks so you can easily track these items on both systems.
NOTE: If you choose Auto-Sync, then app will prompt you to send your data to QuickBooks every time you save an invoice or add a new client or part!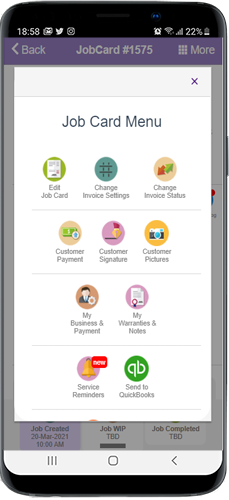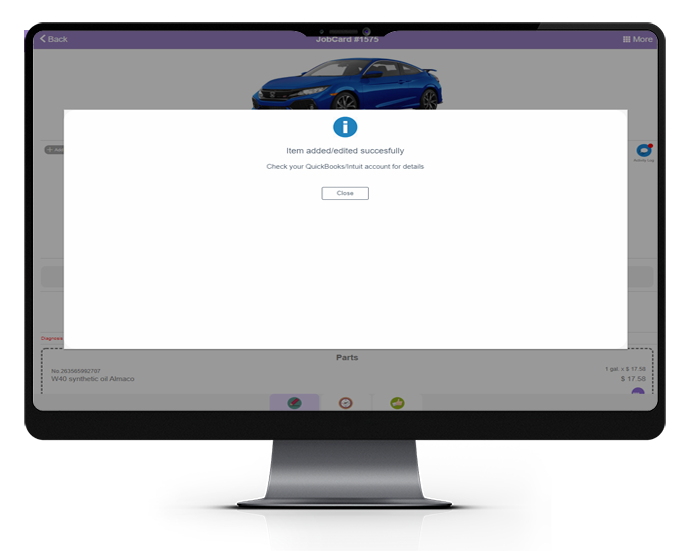 FAQ
– learn more about ARI and QuickBooks integration –
Here's some additional info that we think may help you get started easily with ARI and QuickBooks. If you don't find what you're looking for, make sure to contact us for more in-depth instructions.
How to disconnect my QuickBooks account?
You can easily disconnect your QuickBooks account from ARI by going to ARI Settings/QuickBooks integration and press the Disconnect button. Alternatively, you can do that from your QuickBooks dashboard by going to Apps / Actions and click Disconnect!
How to sync all my data at once?
Unfortunately, this feature is not supported at the time of writing this guide. We strongly recommend starting with manual sync and then setup for auto-sync once you are sure both accounts are set up right.
My ARI invoice total is different from my QuickBooks total
Make sure that your QuickBooks Taxes are setup and they are at the same values as the ARI tax values.