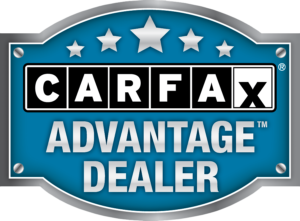 CarFax
Integration
Get Vehicle Service History in Seconds!
Decode VINs and License Plates.
– accurate data provided by a world-leader supplier –
Trusted
Info provided by CarFax is trusted by millions of mechanics
Reliable
CarFax has very high standards when it comes to data reliability
Easy
You can access CarFax reports and data straight from ARI
How to Use CarFax inside ARI
– follow this guide to get the most out of this CarFax integration –
VIN Decoder
– get accurate data about a vehicle based on VIN –
ARI uses 2 different ways to get vehicle info based on VIN. The first is by using the NHTSA database, and when that fails, the app defaults to CarFax. Here's how to decode a VIN with ARI and Carfax
log into the ARI
go to Vehicles
create a New vehicle
input the VIN (you can use your phone's camera to Scan Barcode)
click the Decode VIN button
If the VIN is found, you will be prompted with a message to import the data in your current vehicle session.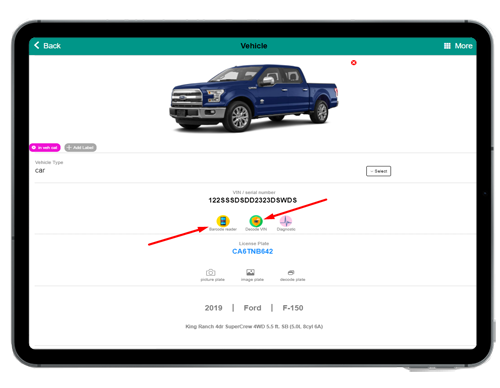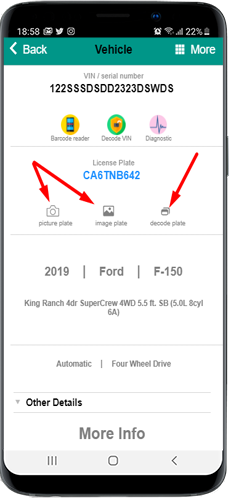 License Plate Decoder
– extract car data from license plate –
One of the most sought-after features of ARI is the ability to read and decode license plates. This works mostly with vehicles produced in the US and Canada, however, CarFax is expanding to Europe as well. Here's how to get vehicle info based on its license plate
log into ARI
got o Vehicles
add a New vehicle
insert the License Plate (you can use the phone's camera to take a picture of the license plate instead of manually typing. just press the Picture Plate button)
click the Decode Plate button
If the license plate exists in the CarFax database, then you will be prompted to import all that data into your current vehicle session.
Service History
–  Check the Service Records of a Car-
The most valuable feature of CarFax is the service history report. The service history of a car consists of any maintenance work done on a vehicle, regardless of the frequency, difficulty, or cost. This is crucial info for both the car owner and the mechanic. If you want to do a proper repair on a vehicle, then it's imperative you know what other parts have been previously serviced.
log into ARI
go to Vehicles and create a New Vehicle
input a VIN (mandatory)
click the MyCarFax button at the end of the screen
If the vehicle's VIN is found on the CarFax database, then you will be prompted with all the service history of that vehicle. This data can include everything from oil changes and tire replacement to complex engine work or body restoration. You can also see the mileage and the time/date the service was performed.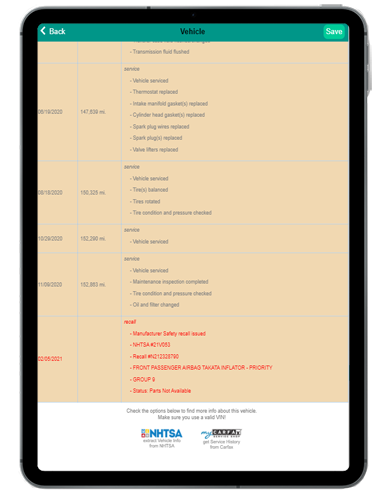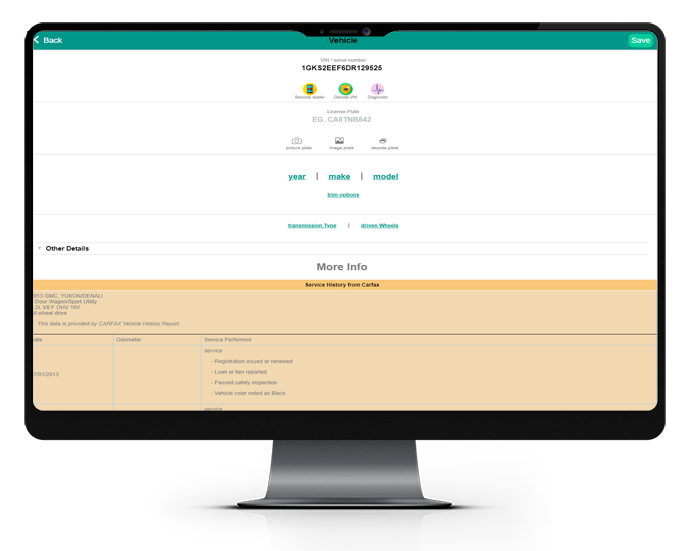 FAQ
– common questions about ARI and CarFax integration –
Although you can always contact us for more info about this integration between ARI and Carfax, you can also find answers to some of the most common questions below.
Why I don't get any service history on a valid VIN?
CarFax has one of the biggest database of vehicles in the world, however, there are cases when a VIN is not present. This happens especially for VINs outside of US and Canada.
Why my data does not show up on the CarFax report?
CarFax has very high standards when it comes to the quality of the data they present on the reports. That is why it's possible that some of your data may not be accepted.
Does CarFax report cost anything extra?
You need to be a subscribed user in order to use the CarFax vehicle report option. Otherwise, you don't have to pay extra per report.