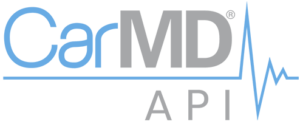 CarMD
Integration
Get  Vehicle Diagnostic & Maintenance information!
get both the diagnosis and the solution
– Predict Vehicle Problems –
Diagnose
The easiest way to diagnose an issue using PID codes
Predict
Check what's the next predicted issue for your vehicle
Maintain
Fetch upcoming maintenance items for a VIN inseconds
How CarMD Makes ARI a Crucial Auto Repair Software
– read more to understand how this integration can be of use for any mechanic –
OBD Port Locator
– picture of where the OBD port is found –
The first step in diagnosing any modern vehicle is to hook it up to an OBD diagnostic tool so you can read the PIDs (Parameter IDs). The codes need to be decoded in order to understand where the issue really is. However, finding the location of the OBD port can sometimes prove to be quite a challenge. Luckily, thanks to the CarMD integration, ARI can show you pictures of where the OBD port is located based on the vehicle's VIN
log into ARI and head out to Diagnose
input the VIN of the vehicle
click the OBD port locator button
If found, you should see an image of the plug in location as well as a a picture of the plu itself.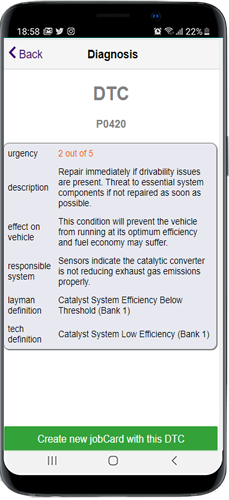 Vehicle's Diagnostic Information
– get diagnose based on trouble codes –
Get a vehicle's diagnostic information based on its check engine light data. This service covers SAE public standard codes and OEM non-standard codes. The data is presented in a way that it's easier for the mechanic to understand and interpret it.
log in to ARI and go to Diagnosis
input the VIN
input the trouble code PID (eg P0420)
click the Diagnosis button
If found, the system will show you a description of the trouble code as well as the urgency level, the effect the issue has on the vehicle, the responsible systems, and also a layman term's definition of the problem
Repair Report
–  Vehicle Repair Info Based on Check Engine Light Error-
CarMD uses a form of intelligent analysis to process repairs and understands that the error code is not tied to a specific part but could be a symptom of another underlying issue.
As a result, it will often respond with a single repair that is 99% accurate. In cases where
the system is not as certain, it will respond with a few options. They will be ordered from most to least probable.
log into ARI and go to Diagnose
input the VIN
input the DTC or check engine light code
tap on the Repair Report button
If data is found, then you will be redirected to a new page that displays info such as
Total estimated cost of repair
Estimated repair time
Service required and repair difficulty levels
Parts required for the job
Estimated prices for parts and repairs
Technical Service Bulletins (TSB)
You can also add all this info to your invoice or jobcard with just a click of a button.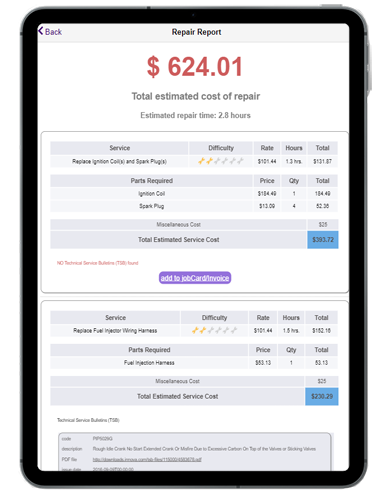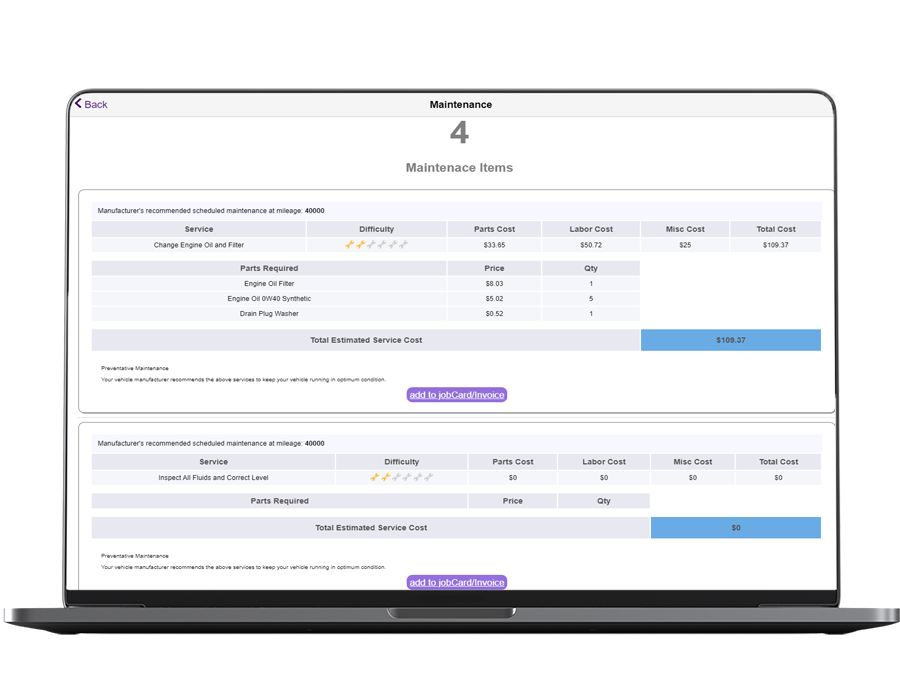 Maintenance (+/-10,000 miles)
– OEM scheduled maintenance and additional maintenance items –
This option allows mechanics to fetch OEM maintenance items as well as additional maintenance items that may not be parts of the OEM standards. This allows auto repair technicians to properly diagnose and repair vehicles.
It is also a very helpful tool when you have to do car inspections and advanced diagnose processes. With ARI, mechanics can get maintenance items, add them to an Estimate as recommended items, and then upsell those services to their clients.
log in to ARI and go to Diagnosis
input VIN and current mileage
click the Maintenance button
If info is found, you should get a list of all maintenance items within 10,000 miles from the current vehicle's ODO read. The list concluded service descriptions, estimates labor costs, parts costs, etc.
Full Maintenance
–  the entire maintenance schedule of a vehicle –
This is by far one of the best features of any auto repair software. Having the possibility to extract maintenance items from both OEM and non-OEM suppliers is a must-have for any mechanic or repair technician.
go to Diagnose
input the VIN
click the Full Maintenance button
If data is found, then you will be presented with a list of all repair items required to be done for the lifespan of that car. You can easily add all or some of those items to your Estimate so you can upsell your services to your clients.
Among some of the most common info found in the Full Maintenance report are parts costs, labor times and labor costs, job difficulty, total estimated cost of the repair, etc.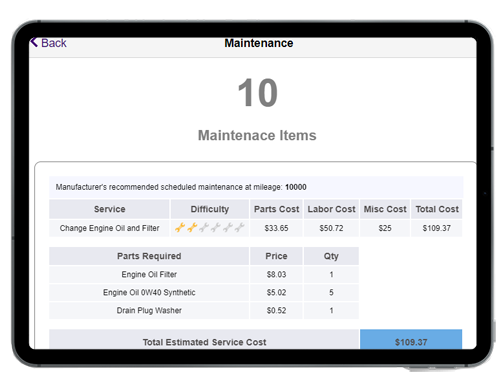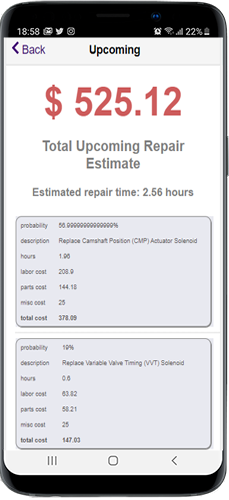 Upcoming Maintenance
– issues a vehicle may experience in the next 12 months –
This auto repair software feature uses smart analysis in order to determine the parts and labor required to maintain a vehicle in the next 12 months. This can be extremely useful when purchasing a 2nd hand vehicle and trying to understand the associated maintenance costs.
Mechanics and auto repair show owners can use this data to create detailed cost estimates and inspections for their clients. Any vehicle owner would be extremely grateful to find how much their car will cost them in the long run.
The data you get from this report is a total estimated cost for the upcoming maintenance as well as estimated repair times. Also, you can get details info such as parts costs, labor costs, and other misc expenses.
TSBs, Safety Recalls, Warranty
–  crucial data needed by any reputable mechanic –
The CarMD integration gives mechanics that use ARI access to some of the most crucial info needed when diagnosing a vehicle. Here are 3 reports that can make a big difference when fixing a vehicle
Trouble Service Buletins (TSB)
Include summary as well as detailed PDF links to the official bulletin
All safety recalls issued by the OMEs for a specific vehicle
This report provides the status warranty of a vehicle. Could be extremely helpful when doing inspection work for insurance claims.