Customer Financing With Wisetack
ARI has partnered with Wisetack to offer your clients extra payment options for auto repair services. The powerful integration lets customers apply for a loan for invoices between $500 and $15,000.*
They pay over time, and you get your money once you finish the job. 
Login to ARI and click the Financing button to signup with Wisetack.
This service is available only in the US.

You don't know how many customers you're missing out on because of sticker shock. When the price is 
$90/month instead of $2,000, you'll turn a "maybe" into a "yes."
Everyone has customers who aren't thrilled about the idea of paying full price upfront. Instead of giving those people discounts of 10% or more, offer them consumer financing instead. 
You get paid as soon as the work is done, while your customer pays over time. No more tracking down customers for payment and assuming any risk if the customer is late or defaults on the loan
How the integration works
Before using Wisetack's services in our app  – you'll need to sign up on their platform and be approved as a merchant. You can sign up in ARI and click the Wisetack logo on the home page to get started. Once the setup is complete – you will see Wisetack's options active in the
estimate
,
invoicing
, and
payments
views. We'll walk you through the process and explain all the details below. Meanwhile, check out our partner's 
website
 and
FAQs
.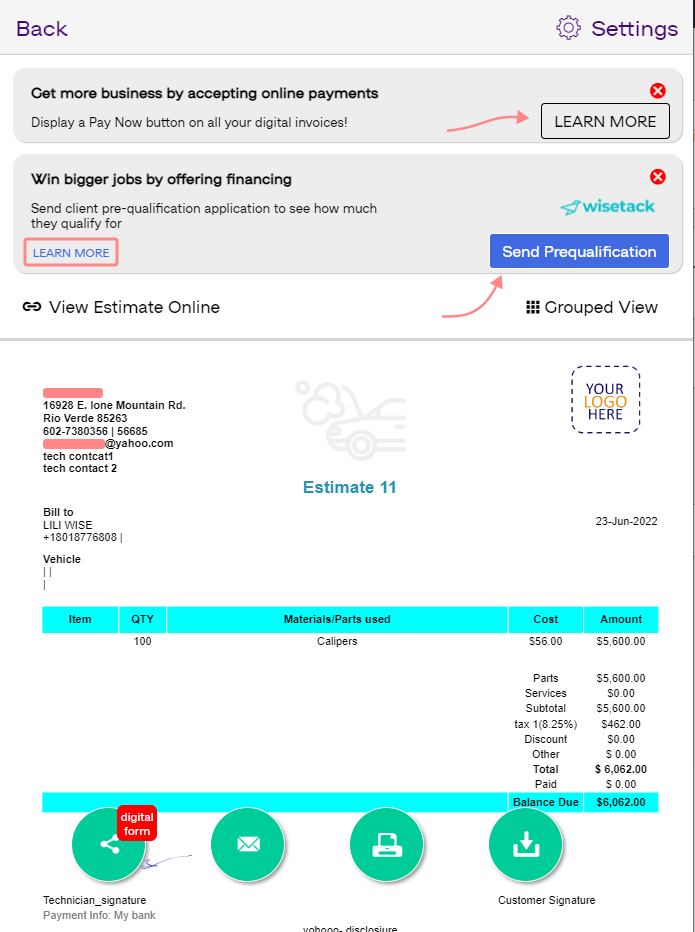 Pre-qualification applications through Estimates
The first option Wisetack gives you is called a prequalification application. When customers pre-qualify, they'll know the maximum loan amount they can take out with Wisetack, which helps them say yes to needed services. 
Sending a pre-qualification application is easy. Simply create a new Job Card/ Estimate or open an existing one. Then click the Estimate button to preview your quote. Click the Send Application button to start the process.
Your customer will receive a text with the next steps.
Financing Options on Invoices
The Wisetack integration allows you to send financing applications directly to clients through online invoices, giving customers an easy way to pay over time for your services.
To start, create an Invoice/ Job Card or open an active invoice. For invoices between $500 and $15,000,* a Wisetack banner appears on the bottom. Click on the Invoice button to preview it and select the "share link" option in the digital form field to send the online invoice to your client.
To start the application, clients can simply click on the "See Financing Options" button. There is no impact on credit scores when clients check their options.
All relevant data will appear in the dashboard, where you can track loan statuses and other customer details.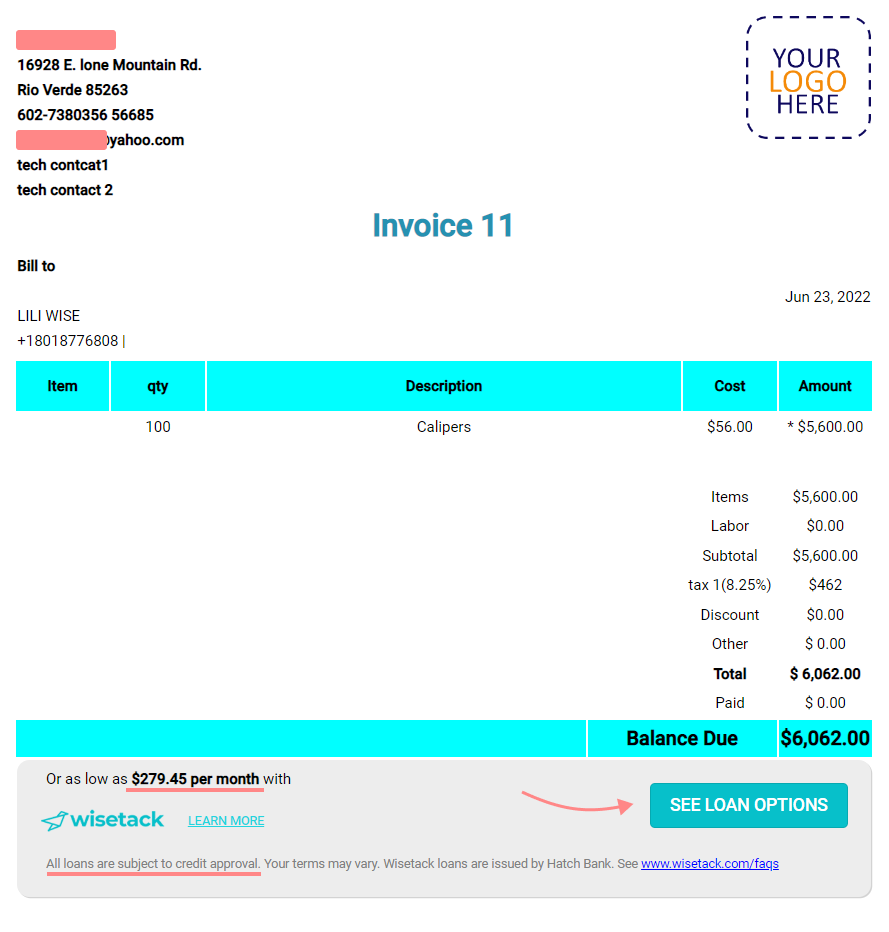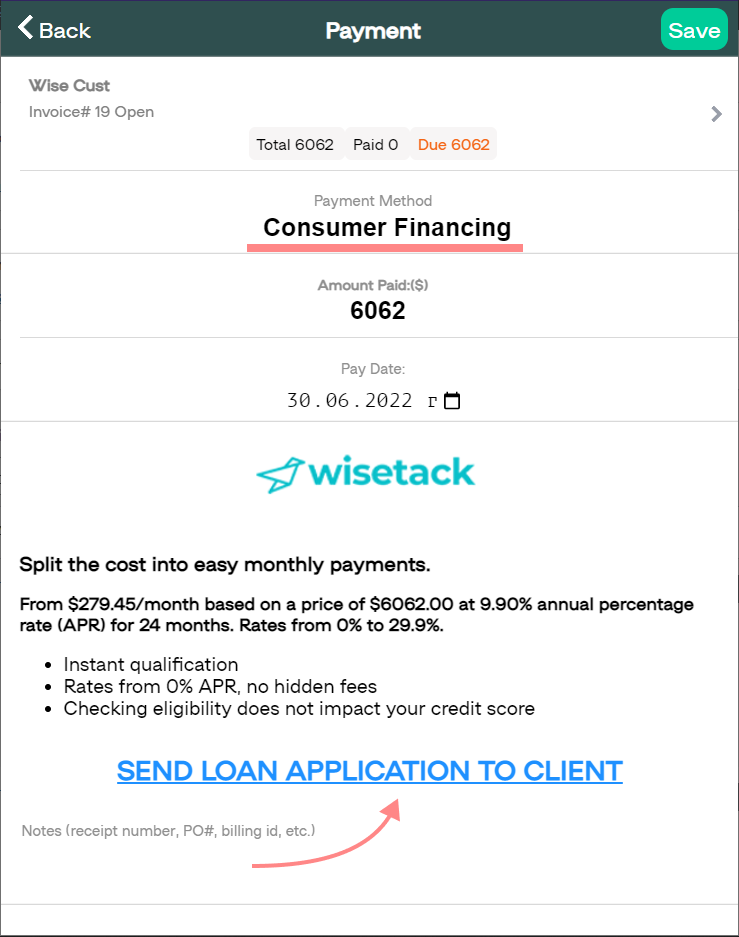 Financing options through the Payments menu
Wisetack is also available on the Payments screen, making it easy for your customer to select Wisetack when it's time to settle up.
Simply open the Payments menu and create a new payment record. Then choose the Consumer Financing option and the relevant invoice. Click the Send Financing Application to Client button.
Once sent, the page shows a sticker with the client loan application status and details. This sticker updates as your client progress with the financing application.
Once your client is approved, the invoice updates in ARI.
Wisetack dashboard plus additional configurations
You can open the customer financing dashboard from our main menu by clicking on the "Financing" icon. The client dashboard will show up if you've already set up your merchant account with Wisetack. If your Wisetack account is not active – you will see the initial pre-sign-up page, similar to the one from the first screenshot.
The Wisetack dashboard includes information about the status of all client loans and applications. This allows you to easily track things like the amount a customer has been pre-qualified for or which invoices Wisetack has already paid you for.
You'll also receive email updates all along the process, including information about the clients' loan status and loan amount.
The common loan statuses you will see in the dashboard are:
Initiated
Accepted
Applied
Released

Paid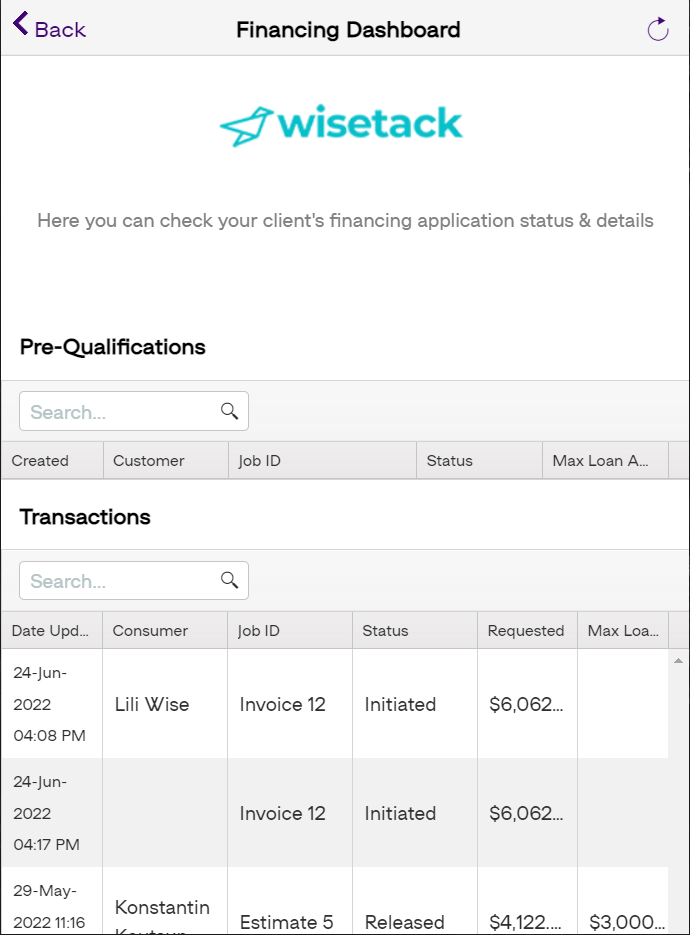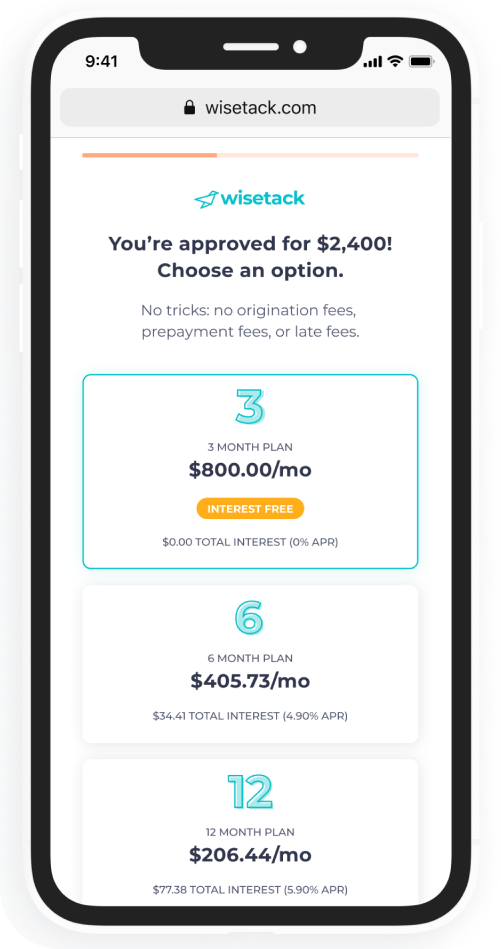 For illustrative purposes only.*
An easy customer experience
Applying for a Wisetack loan is fast and easy for your customer. When you send a pre-qualification or loan request, the customer receives a text link on their mobile phone. Clicking the link opens the Wisetack loan application, where customers can securely enter basic personal and financial information. This usually takes less than a minute. When approved, clients will receive up to 6 loan options and can select the option that fits their needs.
Connecting ARI to Wisetack
In the
ARI app
, go to the "
Settings
" menu and choose "
Online Payment Setup
." Select Wisetack. Review the information about Wisetack, then click the
Sign Up
button. When the application process is completed, you'll see a
unique merchant ID
and an approval notification. The page also includes basic instructions on how to start offering consumer-friendly financing to your clients. Once you're approved, Wisetack is accessible through the
Estimates
/
Job Cards
,
Invoices
, and
Payments
views.
This service is only available in the U.S.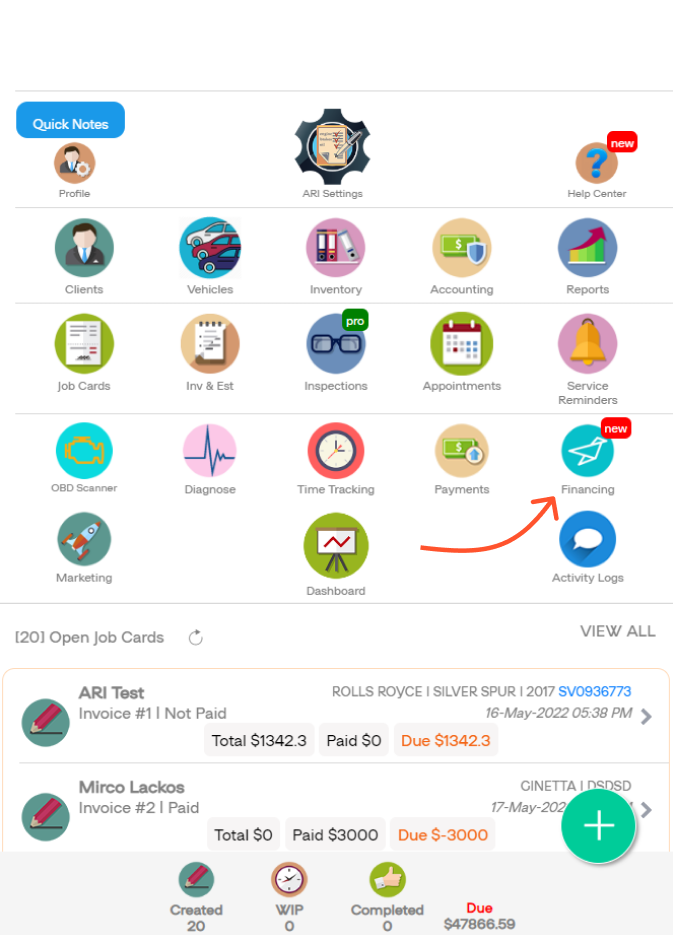 *All financing is subject to credit approval. Your terms may vary. Payment options through Wisetack are provided by our lending partners. See https://www.wisetack.com/faqs.