Migrating From ARI V.9 to V.10
ARI V.10 is live, and now it's time to import your user data from V.9. This page will walk you through the migration process.
1 – Update ARI to The Latest Version
If you haven't logged in –  check the ARI version on the login page. When logged in – see the ARI version by clicking on the Settings menu. It should be v.10, as displayed on the image.
You will see V.10 in the web browser after clearing your browser cache. On IoS/ Android – hit the upgrade button on Google Play and the App Store. For Windows users – you need to delete your app and download it again to reinstall it. You will find a more elaborate
 update guide here
.

2 – Data Import From the V.10 Welcome Message
Once you log in to ARI V.10 for the first time – you will see a welcome message. There you should click on the "Import Data" button and re-enter your ARI V.9 credentials; for security reasons, a password change might be necessary. Once you enter them – the data import will start automatically. The import will take seconds or a few minutes, depending on how much data was stored in your V.9 account. Be careful not to click away during that time because it might disrupt the importing. After it's finished – you will be redirected to the Home Page where all your V.9 data should be present.
The other option you have is to start with a fresh ARI account without pulling any V.9 data.
3 –  Data Import From the Settings Menu
Don't worry if you don't see your old info at first or if the data import is interrupted for some reason. You can initiate the Data Import again – simply go to the Settings Menu and click "Import Data From ARI V.9". There you have to re-enter your old login info, and proceed with the data import. Once successful – the system will bring you to the main menu and you will see your invoices, clients, vehicles, parts, and client data below. 
Once you are ready with that – you can start using our auto repair software like you did before.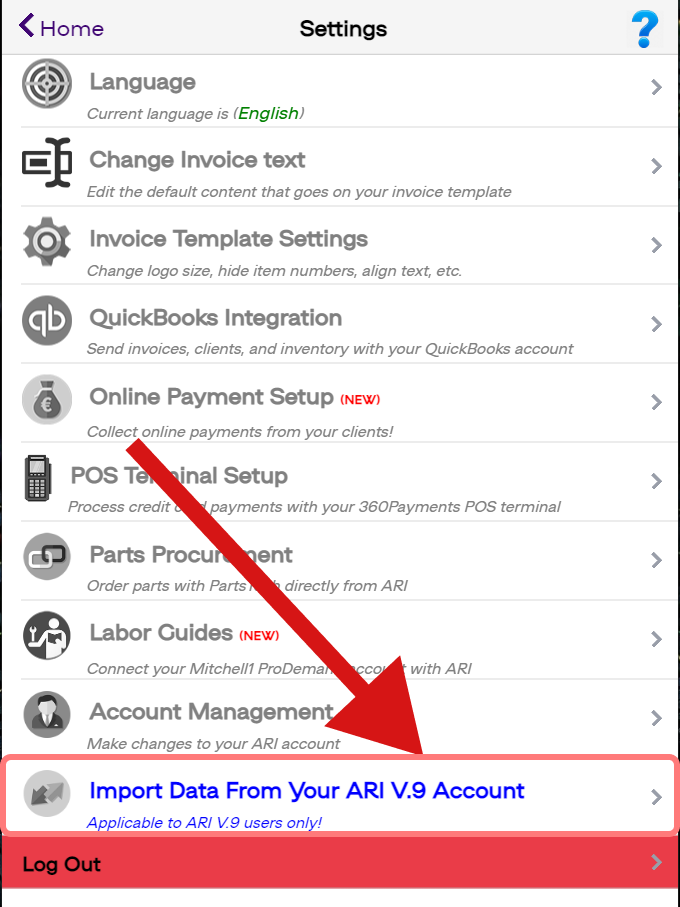 Message us at contact@ari.app or in the app Help Center if you have questions about the data transfer!
Get the app on all platforms