Get more leads for your auto repair business!
The competition among auto repair shops is fierce and more and more it seems that customers are choosing their mechanic based on a Google search. 
It may seem inconsequential but optimizing your Google My Business profile could be the deciding factor in driving customers your way.
Google My Business profiles of relevant businesses just below a Google Map when someone makes a search that references their location. Two examples of these type of searches are: "auto-repair shop in West Chicago" and "auto-repair shop near me"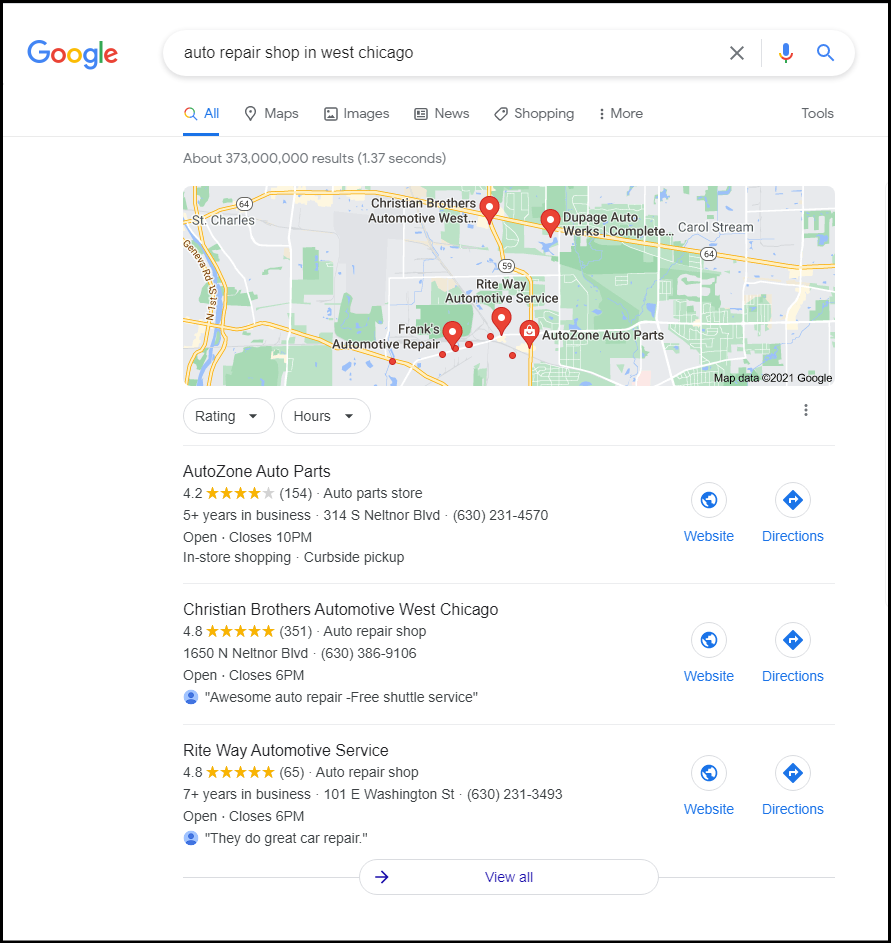 The listings here are all of Google My Business profiles
A Google search of this kind will return a few million results, however at the very top of the page will be the Google Maps response, complete with links to local Google My Business Profiles. 
A well optimized Google My Business profile is therefore a free means to jump right to the top of the search results. There are three key ways in which you can optimize your My Business profile and direct customers to your business:
Completing your My Business profile accurately and with as much information as possible.

Using consistent citations for your business across directories.

Maximizing your profile's click through rate. 
Below is a guide on how to do this.
Completing your Google My Business profile in full
Google is designed to provide its users with the most useful results possible. This means that the search engine is more likely to serve users up Google My Business profiles with complete information, so users can make the most informed choices about which businesses to use.
When filling out your profile you will be asked to complete a large number of fields, these include your business address, opening and closing hours, website address and photos of your business.
While you do not need to complete all these fields to set up your Google My Business profile. With all else being equal, Google will give more prominence to profiles that are more completed. It's well worth spending a bit of extra time making sure that you fill out as many of these fields as possible.
One field that you should definitely fill out in full is "services". Make sure that you complete this field with all the services that you offer. This will give you the opportunity to rank when someone searches for specific services such as "oil change near me".
Having consistent citations of your business
To maximize the potential of your My Business Profile, Google needs to confirm that the information you are providing is accurate. 
They will do this by comparing the information on your profile with other online instances of your business's name, address, and phone number. These instances are commonly referred to as "citations of your business". 
One way of building out these citations is by registering your auto repair shop with relevant online directories. Relevant directories are either:
Recognizable 'big' brands for example yell.com.

Directories specific to your local area.

Directories that are specific to your industry.
You may find that some local directories will ask for a small annual fee, don't let this put you off. By paying that small fee you will be included in a directory with a much smaller pool of businesses and may reach a market that your competitors are overlooking. 
There is a technical side to citations that you will need to give some attention. The search engine will not make connections between citations unless they are identical. 
For example, Long Street and Long St would not be recognised as the same address; this is also the case with phone numbers. Decide which format you want to use for your business address and use this across all directories. 
Click Through Rate
Click through rate refers to the number of times that your Google My Business Profile is clicked on compared to your competitors following specific searches.
If people click through on your profile more than your competitors, this informs Google that your business is the best result for that search and as a result your business will rank higher in future searches. 
Having a large number of positive Google reviews is the most effective way of improving your profile's click through rate. This is because your average star rating from Google reviews is displayed as part of your Google My Business Profile in a search engine results page.
To increase the number of positive reviews for your business you can set up an automated system which will request reviews from your customers. A
Customer Relationship Management system
can help you to do this.
Summing Up
Remember that when running a local business, the Google My Business rankings for local searches are separated by the smallest margins. Consistent optimizations is how you end up above your competitors in local search. If you want to take the next step you can use  Google Search Console to view the number of clicks that you are getting from local searches and chart your progress.
Mike Skoropad is the CEO of online automotive parts retailer
United Tires
.