That Could Help Your Business Grow
ARI has been around for more than 4 years now and we've made some great progress since the first time the app was launched. Although we try to keep you informed of all the changes we make, some things can go unnoticed.
Here are 5 things we believe are the most underrated features of ARI. Using them can help your business grow and save you time.
1. Automatic Service Reminders
You may know that you can create service reminders for your clients, but many of our users don't realize that ARI also sends automatic service reminders to clients when their service is due. Just make sure your client has a valid email address and Send Automatic Reminders checkbox is marked.

2. Message Functionality
Whether you need to leave some internal notes on a JobCard or want to communicate something to an employee, you can use the built-in message functionality. Just click the Activity Logs button on the home and write your message!

3. Online Booking
ARI can create a unique link that you can share with your clients and they can easily book your services online. You can put that link on your website or print a QR code and send it in your emails to your clients. Just go to Appointments and follow the instructions to setup online appointments!

4. Recommended Services
Open any existing JobCard and click on a labor item. You will see that you have an option to mark it as Recommended. What that does is allowing your client to choose whether they want that service performed or not. They can do that directly from the digital estimate.
This is a great way to upsell your services and show your clients that you really care about their vehicles.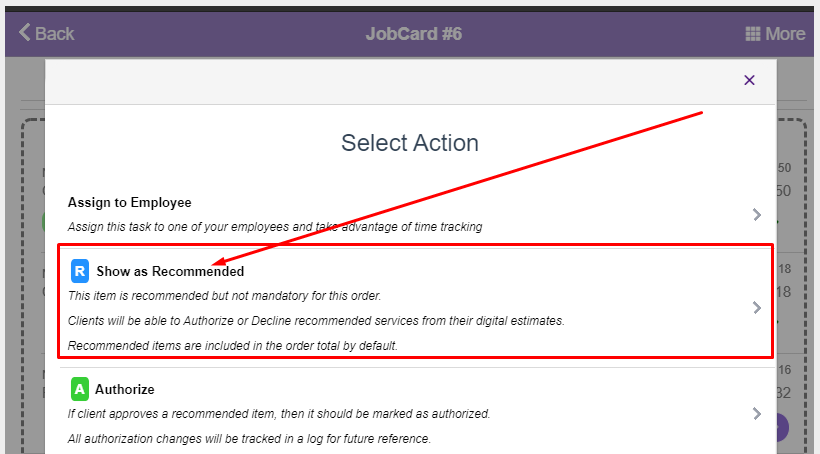 5. Car Maintenance Info
Many users don't know that ARI can provide details repair reports and labor times for upcoming maintenance of any VIN. Check out the Diagnose functionality.

Do You Like ARI?
Go Pro Today